A very strange thing has happened to me over the past year or so. I seem to have fallen in love with wearing blush. Up until quite recently I honestly believed that I couldn't wear it. I have quite a lot of colour in my cheeks naturally so was always nervy about putting more on top. I'm not entirely sure what caused the totally turnaround for me, whether I'm loosing pigment from my cheeks or whether it's wearing a better base or possibly I've just got better at picking the right shades. Whatever the reason, I currently cannot leave the house without adding some colour to my cheeks!
So, I thought I would share with you all my growing collection of blushers.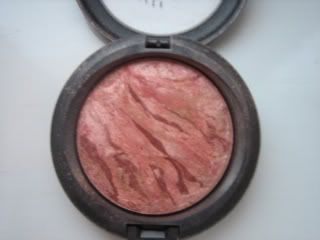 MAC Northern Lights MSF
This was the my introduction to the world of cheek products. I remember asking for advice on Specktra and being recommended this MSF as a blusher. I no longer use it as a blush on it's own but use it on top of matte blushers when I'm in the mood for a bit of a sheen. It does have have fairly large glitter particles but I forgive it for the lovely colour it gives.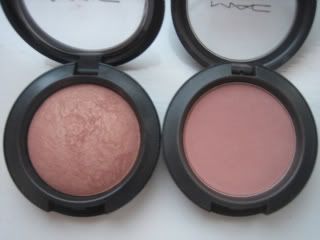 L-R: MAC's Warm Soul and Cubic
MAC's Cubic is probably the blusher that really got me in to wearing blush. Pictured on the right above, it doesn't look like much in the pan but it gives me a nice, natural colour to the cheeks. I think of it as being a kind of dusty/dirty pink colour. MAC describes it as a 'soft, muted pink'. I've also found it a really useful colour to have as I'm sometimes a little nervy picking the right colour to go with a particular eye and lip look. This one never clashes or competes.
MAC's Warm Soul (above left) was on my wish list for a long time. I remember seeing it in a couple of
Pixiwoo's
tutorials and thought it might be a good choice as I have similar colouring. It often gets sidelined by the pinks but it is a really nice colour and I ought to wear it more often.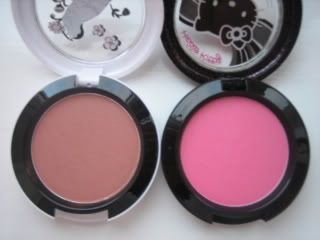 MAC Limited Edition L-R: Prim & Proper and Tippy
Prim & Proper was released as part of the recent Liberty of London collection. As you probably realised from previous posts I got this because I love the packaging! I don't think I've used it enough to give an honest opinion. I'll have to get it out a bit more often and give it fair trial! Tippy came out with the MAC Hello Kitty collection. I didn't get it when it was first released but decided to pick it up when I spotted it at Bicester CCO. I was keen to try it as I'd heard it was a good dupe for Dollymix which I still don't have. Although it is quite bright in the pan it is a pretty colour and is sheer with some shimmer to it so it's very wearable. I like the texture of this blush and really enjoy the lovely sheen it gives on the cheek.
MAC pro pans L-R: Dame and Strada
At the time I bought MAC's Dame I had been looking at Well Dressed and Pink Swoon. I really love the look of those colours but was concerned that they would be too light for me. I opted for this instead and am very happy with it. Of course, I'm still wondering if I could go for a lighter pink!
Strada was another of my CCO finds. I like it as it's a light brown with minimal red so works well as a subtle contour colour on my pale skin.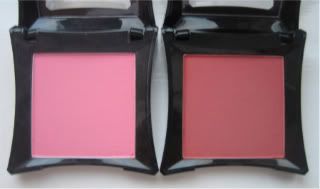 Illamasqua Powder blushers, L-R: Unrequited and Beg
The Illamasqua blushers pictured above are the absolute favourites of my collection. Both were fairly recent acquisitions but have already had a lot of use. Unrequited is a gorgeous pink, it's highly pigmented but very easy to apply and lasts well. I've mentioned before how much I love Beg. I don't think my photo does it justice. It's one of those colours that you don't believe is going to look good until you apply it. I'm not sure it will work on all skin tones but for me a swipe of this on my cheeks and I can fake awake!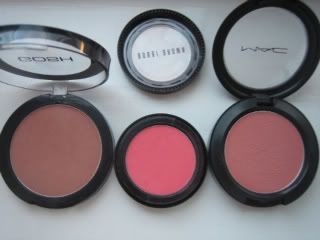 L-R: GOSH Rose Whisper, Bobbi Brown Apricot, MAC Ladyblush creme blush
I bought the GOSH blush some time ago when I first started experimenting with wearing blusher. Although the name is Rose Whisper I think of it as plummy brown. Like Cubic it's a colour I can wear easily without worrying that it's clashing with the rest of my make up. I bought the Bobbi Brown Apricot after a make up trial for my wedding (the old man of my collection!). It's a brilliant colour for brightening up the face but needs a light hand. It's much easier to get it right now I have duo fibre brushes.
My apologies for the fact there is a hair stuck in my Ladyblush pot! Although I do like this colour I seem to have problems applying it without getting bristles stuck to my face. Especially as it seems to need a lot blending to stop it looking muddy. The consistency is a little thick but it does have good staying power.
I have a long list of other blushers that I'd love to try including NARS Deep Throat and Lokoum and Becca's Amaryllis and Wild Orchid. If you have any suggestions for colours you think I'd like or must have's that I absolutely need let me know. I'm always happy to add more to the lust list!
Jane x