I just can't stop buying at the moment. I'm convinced it's because I'm not supposed to be buying that the urge becomes irrisistable. The flipping Debenhams vouchers are just enablers too!
So, this is a bit of a combined haul, it's a mix of a couple of Debenhams trips, an online shop and a trip to the CCO at Bicester. Here's a picture of everything...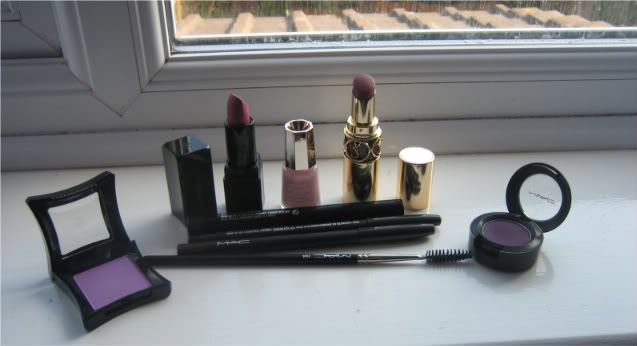 From left to right across the back:
Illamasqua eyeshadow in Cancan
Illamasqua lipstick in Wanton
Mini Marvala nail varnish
YSL rouge volupte no.20 (spicy pink)
MAC eyeshadow in Fig.1
Pencils etc. from top down:
MAC Greaspaint stick in Dirty
MAC Pearlglide liner in Petrol Blue
MAC Pearlglide liner in Miss Fortune
MAC Lash brush
(L - Cancan R - Fig. 1)
Cancan is really beautiful, you have to pack on quite a bit to get it to show up on the lid but it's worth it. I picked up Fig. 1 at the Bicester CCO, I was really pleased to see it there. I've passed it up before and really regretted it. I'm a huge fan of purples!
These are probably the most representative swatches of the shadows
(L - Cancan R - Fig. 1)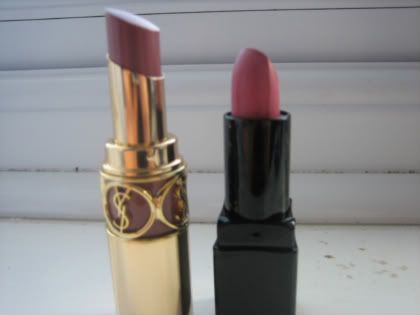 (L- YSL Spicy Pink, R - Illamasqua Wanton)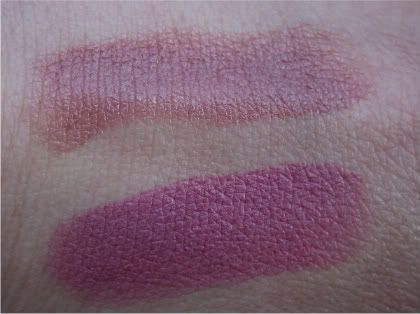 (Top- YSL Spicy Pink, Bottom - Illamasqua Wanton)
I'm in love with both of these lipsticks, very 'me' sort of shades!
Lastly are the Greasepaint and Pearlglide swatches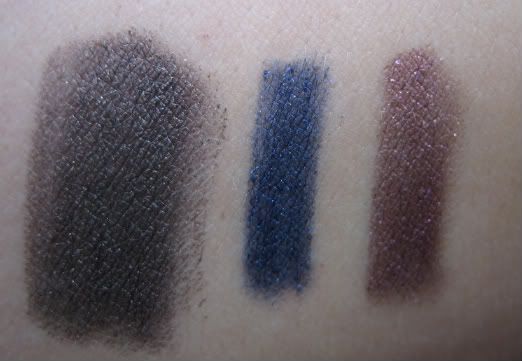 L-R: Dirty, Petrol blue, Miss Fortune
Dirty Greasepaint stick is gorgeous! I'd swatched in on my hand the following week. It didn't look so great in the shops lights so I didn't get it but I regretted it as soon as I stepped outside. It has such a lovely sheen in daylight. Petrol blue liner in lovely too, I've been wearing it a lot with purple shadows. I picked up Miss Fortune at Bicester, I'd been considering either Almost Noir or UD's Rockstar so this seemed like a bargainous alternative. It still doesn't make up for my disappointment at Designer Purple being sold out though!
I've got another haul post to come as my ASOS delivery arrived this morning and I've been making use of my Revlon/L'oreal vouchers at Boots. Watch this space!