Well, I will concede that I'm not really doing very well with project 10 pan. I'm emptying things and trying to use things up but I just can't seem to pass things up. In my previous post I said how keen I was on the Give Me Liberty of London collection. You won't be surprised to hear that on Thursday evening I dragged the whole family out in the car so I could visit the MAC counter! I picked up Ever Hip lipstick, Prim & Proper blush and Shell Pearl beauty powder. So, I wasn't even restrained enough to limit myself to one item! Thankfully it is all as beautiful as I'd hoped. At least I funded the haul by selling off some of my unused make up.
Just to test my willpower even more I got a £5 off a £25 spend in Debenhams - I'm already deciding what to buy! I also won £100 to spend at ASOS.com on Thursday, hurrah. My husband made sure I didn't spend it all on make up. They stock Illamasqua and I've been wanting to try some for ages so I ordered a lipstick in 'Box', a gorgeous red and a blusher in 'Unrequited' a matte baby pink. I also bought an Urban Decay eyeliner in Gunmetal after reading lots of recommendations. All of the make up is gorgeous, particularly the Illamasqua bits. I'm sending some of my order back and will be swapping it for some Converse and, yes, you've guessed it......more make up. I'm very tempted to get another Illamasqua lipstick, as yet I can't decide between 'Climax' or the more neutral 'Test'.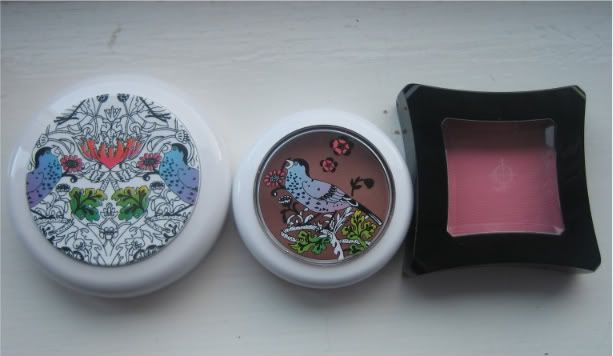 On the subject of my (pretty rubbish) Project 10 pan attempt, so far I've finished a Revlon Colorstay foundation, Maybelline Lash Stiletto mascara and a Bobbi Brown beige lipgloss. My Viva Glam V lipstick has hit the plastic and I think both my Touche Eclat and No.7 foundation are very close to empty. I'm going to resume finishing off my Modesty lipstick and Brule eyeshadow. I will carry on trying to stick to it despite my blips. I am pleased I am using things up even if I can't stop buying as at least it shows it gets used. I did manage to avoid buying at the Cosmetics Outlet on Saturday so I'm not altogether without willpower!