I thought I'd do another face of the day for you, this time using Solstice Halcyon. I'm really pleased with how it turned out, as ever the camera has bleached out some of the colour so it looks more muted than it does in real life. Apologies also for not including a full face. I managed to get one good one of the make up but my eyes were doing extremely funny things and seemed to be pointing in completely different directions. If I had included it you would all be far too busy rolling around on the floor laughing to even notice the make up, so I'll spare you!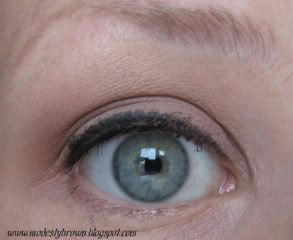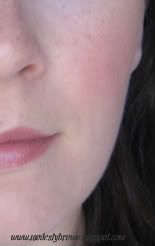 Face
EL foundation (not a great match but I'm using it up)
Touche eclat
NARS Laguna Bronzer
Illamasqua blusher in Unrequited

Eyes
RBR Solstice Halycon on lid
Bobbi Brown Taupe in the crease
MAC Charcoal Brown in the crease
UD 24/7 liner in Zero
Rimmel Sexy Curves Mascara
Lips
RBR Irreverence
If you haven't already tried any Rouge Bunny Rouge make up I can honestly recommend it. Yes, it is very expensive but the products are lovely to use and it feels so feminine. I'm not sure if that's because the colours are so flattering or the beautiful packaging. Either way, for me it's been money well spent.
In other news, if you follow me on twitter you will already know that I phoned up to order a few bits from Selfridges today. I ordered
this set
from Suqqu as posted by LondonMUgirl and thanks to some brilliant shopping advice, also from LondonMUgirl, I added the Shu Uemura the eyebrow pencil, H9 Seal Brown. I am extremely grateful, as with postage at a whopping £6, it pays to get multiple items. I'm looking forward to letting you know how I get on with them.
Jane x