After my post about dream shopping after a bad day, I decided to treat myself to another
Zuneta
order. I liked the Hourglass and Rouge Bunny Rouge items I got last time and wanted to investigate more from the lines.
Here's a picture of the order plus packaging. I know other bloggers have mentioned the lovely box the items come in and it isn't hard to see why it's popular. It's like a beautiful gift to myself!
I went for the Hourglass eyeshadow duo in Exhibition that I had been admiring in
Visionary Beauty's
posts. I also got
Rouge Bunny Rouge eyeshadow in Solstice Halcyon
(for readers outside the UK it is worth noting that Zuneta ships Worldwide). Both are pictured below.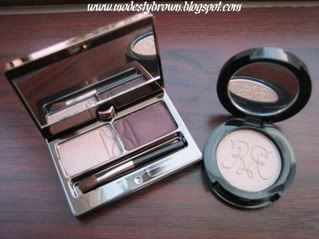 Hourglass eyeshadow duo in Exhibition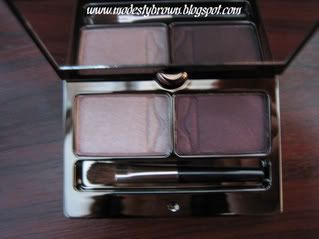 I was delighted when I saw the Exhibition duo, it is a really pretty pairing. The lighter shade is a light, slightly frosty purple shade and has good colour pigmentation. You would imagine it to be quite sheer but it's isn't at all. Quite a few pale purples and lilacs that I have need a lot of packing on to be visible on the lid so this is a pleasant change. The darker shade is a deep plum shade. I applied this to my crease with a MAC 226 and found it easy to blend. Shame about the 226 being such a scratchy beast but that's a gripe for another occasion!
Rouge Bunny Rouge eyeshadow in Solstice Halcyon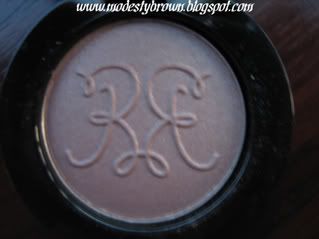 I had read that this was a mauve toned taupe. Looking at the picture here it's hard to see that as it looks like a light golden brown. I hope you'll see from the swatches below that the description is very accurate though. I can't wait to use this on my eyes, I'm sure it's going to be a great colour for me.
In both pictures below the swatches from top to bottom are: Lighter colour from Exhibition duo, Darker colour from Exhibition duo, Solstice Halcyon.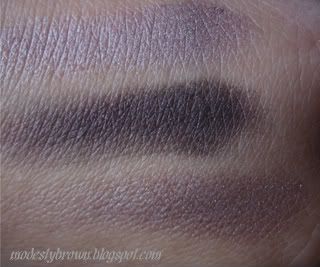 I think this photo gives a truer representation of Solstice Halcyon. It really is a pretty colour and has a definite mauve tone which isn't obvious in the pan form.
Here a few pictures of me wearing both colours from the Hourglass Exhibition duo. As you can see I'm wearing the lighter colour all over the lid and the deep plum in the crease. I used Caviar gel eyeliner (Bobbi Brown) to line the eyes. Apologies for the weedy lashes. I'm not blessed in the lashes department and the Rimmel Sexy curves mascara that I'm using up does me no favours!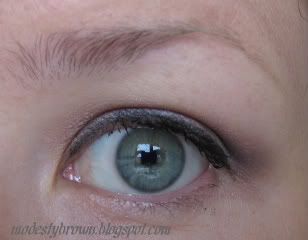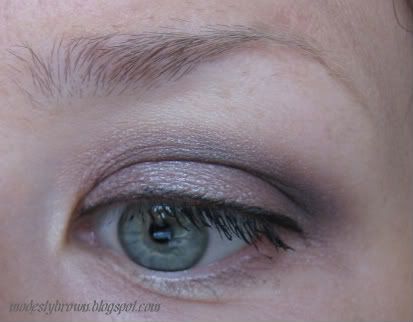 Thanks for reading and feel free to comment, I always love to know what you think.
Jane x