I received an order of Sigma brushes yesterday and after washing them and having a little play I wanted to share my initial impressions with you.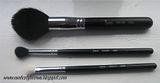 I ordered the ss224, ss217 and ss138. I bought the 217 and 224 as an 'extra' to the MAC versions I already have. I ordered the ss138 as, although I would love a MAC version of this brush, it's a little on the expensive side.
I was so exited to get my mitts on these brushes after watching and reading so many rave reviews. I immediately stopped unpacking boxes to give them a closer inspection! Of course I gave them a good sniff and I confirm these babies smell very strongly of plastic. Just think eau de brand new Barbie! So my first job was to give them a wash.
Sadly, the smell didn't disappear on washing. I even gave them a second wash and it made no difference. My hope is that it will fade in time. Fortunately I didn't experience any shedding or bleeding.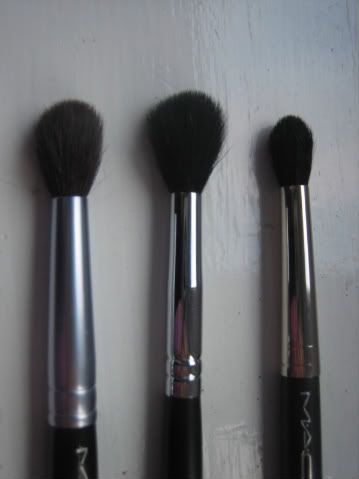 L-R: MAC 224SE, ss224, MAC 226
I thought I'd do a little comparison of the ss224 to my MAC brushes. I've included a picture of the MAC 226 to demonstrate size. I will start by saying I'm very disappointed with this brush. I have come across more than one review suggesting this brush was a better shape and size for using in the crease. As I hope you can see, the ss224 I have is bigger than the 224SE, so for me this would be complete no hoper for the crease. The other problem is the brush is so soft and not as densely packed as a MAC brush that as you touch it to the skin it gives no resistance and splays out. I wanted to use this brush for buffing in concealer under the eye. Without any resistance in the bristles there's no way I can use it for that job. I can only assume there must be wide variation in the manufacture of these brushes. Pictures of the ss224 that I have seen on YouTube videos have have shown brushes with much stumpier, densely packed hairs.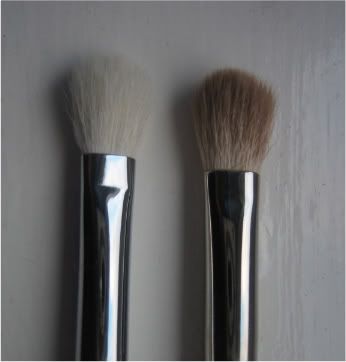 L-R: ss217, MAC 217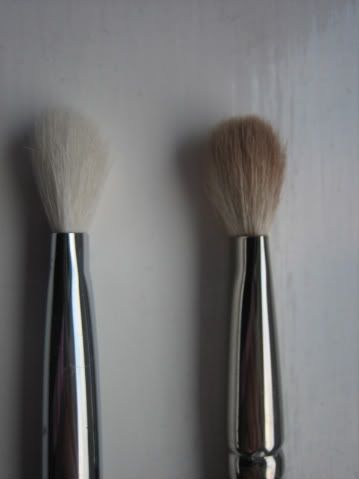 Side view L-R: ss217, MAC 217
Apologies for the dirty brush! Above you can see a comparison of the ss217 and MAC 217. From the pictures it is hard to see much difference between the two. From the side, perhaps you can see the ss217 is a little thinner. The ss217 suffers from the same problem as the ss224. It is very soft and doesn't have the density to offer any resistance when touched to the skin. Although I haven't used it yet, I know it won't apply colour to the crease like its MAC equivalent. However, I imagine it will be OK for applying a wash of colour to the lid.
Like the other two Sigma brushes, the ss138 disappoints because of it's softness. As I don't have the MAC version to compare to, I used the MAC 165 to compare shape and density. The ss138 has the same rudimentary shape as the MAC 138 but doesn't have the substance. As I touch the tip to my cheek it immediately gives. The function of the pointed tip and tapered shape of the MAC 138 is to blend at the same time as applying. As the ss138 does not maintain it's shape when touched to the skin I can see it applying too much colour and not blending evenly. I will of course have to reserve judgment as I've yet to (dare) try using it with any product on! This brush will of course be fine for applying face powder.
So, I guess it's true what they say folks. You get what you pay for and of course, in the words of Public Enemy, don't, don't, don't believe the hype!