I was so excited about this order and I can honestly say it did not disappoint! I even managed to find a new favourite in my purchases.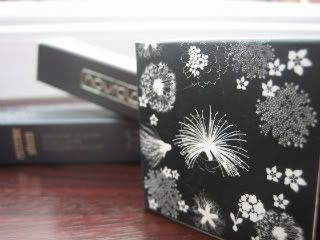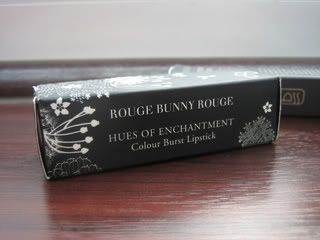 I ordered Delicate Hummingbird eyeshadow and Irreverence lipstick from the Rouge Bunny Rouge line and Origami and Ignite Extreme Sheen lipglosses by Hourglass. The order came in two parts as there was an issue with the stock of one of the lipglosses but the people at
Zuneta
were fantastic. Huge thumbs up for their customer services and super quick shipping, The packaging the orders come in is really pretty as well. As a dyed in the wool purple freak I was in love with their tissue paper!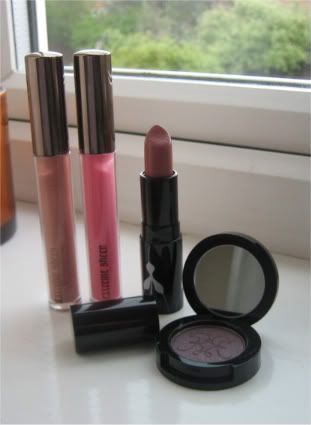 L-R: Ignite lipgloss, Origami lipgloss, Irreverence lipstick, Delicate Hummingbird eyeshadow
I got a couple of lovely free samples with my order (used rapidly of course) and I was overjoyed to get a free Rouge Bunny Rouge mirror. It was really beautiful but I'm afraid I don't have a picture to share as a friend has already nabbed it!
Rouge Bunny Rouge, Delicate Hummingbird eyeshadow
My absolute favourite of the bunch has to be RBR Delicate Hummingbird eyeshadow. I didn't manage to capture quite how pretty the colour is. It's a taupey, purple with shimmer. I've worn it most often as an all over lid colour with either a grey or navy eyeliner. It's quite similar to MAC's Flirty Number, which is fine for me as I love that too! However, the colour payoff and texture of Delicate Hummingbird is much better than Flirty Number. I'm looking forward to trying more RBR eyeshadows, I think Solstice Halcyon is next on my list.
Rouge Bunny Rouge swatches: Top - Irreverence, Bottom - Delicate Hummingbird
Unlike the eyeshadow, I wasn't sure if I'd love the colour of Irreverence lipstick. I was worried in particularly that it would be too similar to MAC's Modesty/Illamasqua Test. I'm pleased to report it isn't a duplication but it is a really easy colour for me to wear like the other two. It's a lovely formulation and feels very moisturising on the lips which is a bonus. It's more long wearing than I'd expect for a moisturising formula too.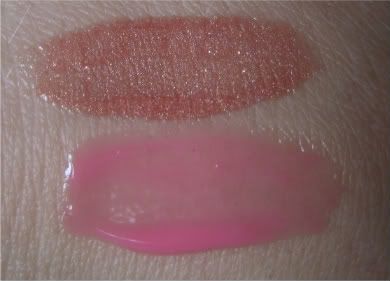 Hourglass swatches: Top - Ignite lipgloss, Bottom - Origami
The Hourglass lipglosses are really lovely, I've worn Origami a lot since it arrived. I'd been hankering after a lipstick in this sort of shade but I thought a gloss might be an easier introduction. It was certainly a good choice. These glosses really do feel amazing on, I have quite dry lips and these glide on and feel like a balm. They're not sticky but do require more frequent touch ups. But as they smell and feel so nice it's no hardship. The smell is a lot like Soap and Glory's Motherplucker Gloss (no tingle though of course).
So, basically it's a thumbs up all round for this haul. I'll certainly be ordering from Zuneta again very soon and I'm already looking at which RBR and Hourglass items to purchase next.
Jane x