It's been a bit of a busy month in the Modesty household. We got the keys to our new house at the end of April and spent a week or so moving everything over. I still haven't got everything sorted in the new house, I was certainly more industrious during the two weeks without internet access. Whoops!
Some of my favourites this month really have to be recent purchases from
Zuneta
. I have worn Rouge Bunny Rouge eyeshadow in Delicate Hummingbird a lot and also the lipstick in Irreverence. I've loved wearing Hourgloss lipgloss in Origami, it's such a nice colour and the texture of these lipglosses is so moisturising and luxurious. A real winner for me.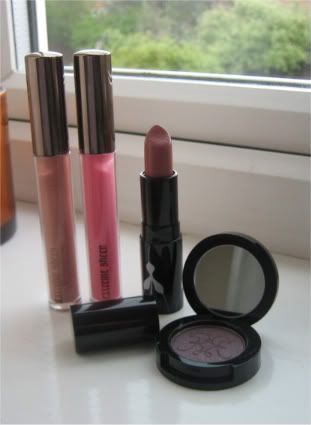 I've been reaching for Unrequited blush by Illamasqua a lot as well as my trusty Laguna bronzer. A rather surprising favourite has been MAC's pearlglide eyeliner in petrol blue. It's such a pretty, sparkly blue and I've had compliments when I've paired it with Cancan eyeshadow on the lid and Fig.1 in the crease. Another lipstick I've been wearing a lot is Test by Illamasqua. It's been a great replacement for MAC Modesty and as it last so long with lipgloss on top it's a great choice for when I'm out a lot.
Skincare wise, I've been loving
Olay's Complete Care Multi-Radiance daily illuminating moisturiser
. It's not something I would have picked myself but it was part of my Mother's Day gift set. It feels really nice and the light reflecting particles do leave a nice sheen.
I also discovered this
Skin Wisdom Firm and Lift V Zone serum
from Tesco's. I was recommended the line by a friend who had been using the anti-wrinkle serum. The serum feels lovely on the skin and the smell is divine. I'm not sure if it's improving the appearance of my neck and decolletage but I know at my age it's not wise to ignore this area. I can maybe review it properly in a month or so if anyone is interested?
Now for the ramble! I went to Bicester Village to pay a visit to the Cosmetics Company Store. I was thrilled to find a 187 brush in there, I'd called up earlier in the week and was told they didn't have any. I've passed it up before when I've seen it in there and kicked myself. Another surprise was finding the MAC Spiced Chocolate quad in there. I know this is quite popular and hard to come by. I have admired it myself as they are really stunning colours but I know I really can't pull these sorts of warm shades off.
As ever when I don't have money to spend, I spotted loads of things I wanted. They had paintpots in Soft Ochre and Groundwork both of which I've wanted for a while. They also had a huge stand of Bobbi Brown items. Normally they have a tiny selection. My biggest disappointment was having to miss out on the Moisture Rich Foundation in Warm Ivory. I'm sure this would be the right shade for me and I've wanted to try a Bobbi Brown foundation for a long time. Please someone tell me it's rubbish as otherwise I'll be crying in to my cornflakes. There's such a quick turnover of stock in these shops that I'm unlikely to find it by the time I have cash to spend. I'm sure I'll forget all about it when my Suqqu and Shu Uemura parcel arrives!
Jane x