I made an ASOS order last week to take advantage of the free next day delivery. As part of the order I got Illamasqua's cream blush in Rude. I'd seen a few recommendations and although it's not something I'd usually go for colour wise, I threw caution to the wind! When it arrived the next I opened it and..........immediately regretted ignoring my sensible side. I shouldn't have worried though, when applied this blush doesn't look like the vivid orange it appears in the pan.
I've worn this a few times now and like my other Illamasqua blushes I really like it. It lasts well and doesn't feel greasy at all. It's really easy to blend. One note of caution though. I do find it much easier to achieve the right amount of colour if I dot on with my fingers and then blend with a MAC 109. I had a bit of an Aunt Sally moment the occasion I stuck the brush directly in the pan! I also made an error when I paired it with Ever Hip. I struggle with Ever Hip anyway (is that just me?) and the matchy, matchy coral with my colouring had me wondering where my Ra-ra skirt and rollerskates had gone.
Anyway, I digress. Here are some swatches and today's face wearing Rude. All the pictures are clickable and the full size photos show the most accurate colour. I've left them un-edited as the minute I edit in photobucket they bleach out.
Pan swatch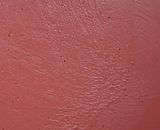 Swatch on skin, blended and unblended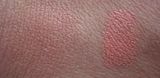 The colour applied on my cheek.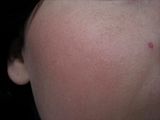 Full face wearing Rude and a demonstration of why I really need botox!
Face
EL Ideal Matte - I'll be pleased when this is finished
MAC NW20 moisture cover concealer under eyes
Illamasqua Rude blush
Eyes
MAC Painterly paint pot
MAC Style snob
TBS brown eyeliner
Rimmel Sexy curves mascara
Lips
RBR - Irreverence