I thought I'd try a smokey eye makeup using the Blend eyeshadow EX-07 from the
Lilac Allure set
. I used the darkest colour (3) on my mobile lid, blending out the edges at the crease using the champagne (2). I also added some of the champagne over the darker colour to soften. I used MAC brule as a highlight and lined using Bobbi Brown gel eyeliner in caviar ink. I also used the volume length mascara from the set. This is a nice mascara but it's quite tricky to use the wand with such a short stick!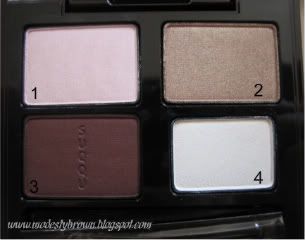 Here's the finished look. The photo is clickable and I hope the images are large enough for you to see the colours?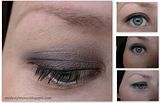 I really like this look and found layering the champagne over the darker colour created a nice effect. The shimmer is subtle and very pretty. As ever whilst taking photos a little person wanted to get in on the act, so here's is my 2 year old's beauty blog debut.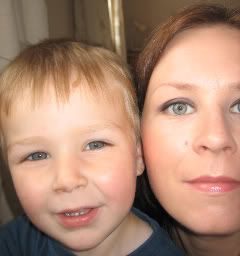 Thanks for looking,
Jane x