I thought I'd try a bit of a different shadow placement today. I used the
Hourglass duo in Exhibition
and this time I applied the darker colour only on the lash line. I have the lighter colour all over the mobile lid and I thought I'd experiment a with adding a bit of Rouge Bunny Rouge Solstice Halcyon at the edge of the lighter shade, just above the crease. I'm not sure whether it works or whether it's a little too much but the colours certainly go well together.
I tried L'Oréal Voluminous mascara for the first time today (I finally sent Sexy Curves to it's rightful home, the bin). It's been sat in my box for a while and I was convinced it was going to be terrible. I picked it up as I'd heard it was a good dupe for YSL faux cils. I baulk at the idea of purchasing Faux cils because I'm aware it dries up very quickly. So I thought I'd try this as an alternative. As it has quite a big brush I thought it was going to be the usually disaster for me. Blobs all over my lid and none on my lashes, you know I'm talking about you BadGal! I was pleasantly surprised though as this thickened my lashes and applied very easily.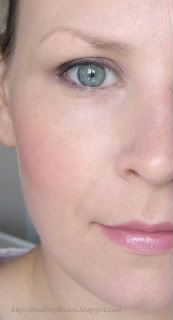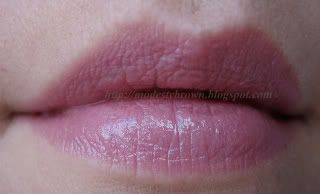 I was in the mood for a bit of contouring today and used MAC Strada. The blusher I'm wearing is MAC Dame. I put Hue lipstick on first of all but decided it was too pale with the rest of the make up and swapped it for Syrup instead (both MAC). In the pictures Syrup looks quite bright but in the flesh it appears darker and more muted on my lips.
I'm not 100% sure I'm happy with this look. I like the eyes but I'm not sure if the blush or the lips were a good choice. It's hard to tell as the colours aren't entirely true to life but I think the pinks are a little too cool. Let me know what you think and what lip and blush you would pair with this eye.
Jane x