I was very excited when my doorbell rang yesterday and realised it was my package from Selfridges. I was so excited in fact that I refused to open the package until I was alone to give it the special treatment it deserved! Inside, in lovely packaging, was the Lilac Allure Anniversary set from
Suqqu
as well as the Shu Uemura eyebrow pencil I've been after such a long time.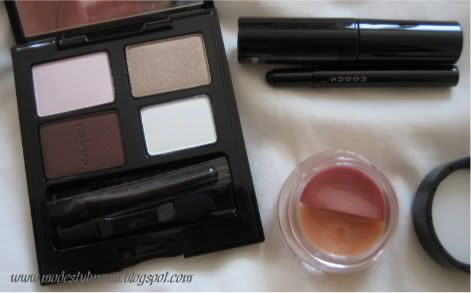 The set contains blend eyeshadow EX-07, a soft case for the quad, Dual gloss colours EX-03, a retractable lip brush, Mini mascara (volume long) and a gorgeous small makeup bag. The gloss pot contains a mauve and a peach gloss. I didn't manage to get any swatches unfortunately as they didn't show up very well on camera.
The make up bag is lovely and was a surprise addition. I don't think it's mentioned in the detais. It's a pinky-lilac, has a hand strap and some really handy little compartments. I think it will make a great travel make up bag.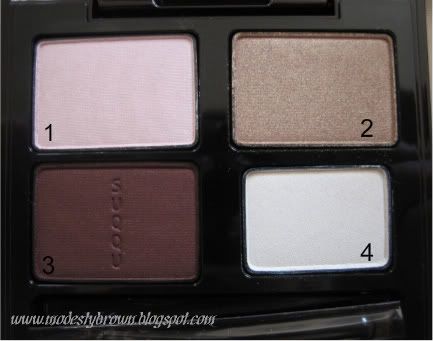 The eyeshadow colours in the Blend EX-07 were a bit of a surprise too. With the exception of the highlight shade, they weren't what I had expected based on their appearance in the pan. The colour I was expecting to be a matte lilac (1) is a sheer, icy pink with shimmer. The 'taupe' (2) is a sheer, shimmery champagne and the shade that looks like a plummy brown in the pan (3), is much darker swatched and looks like a smokey plum.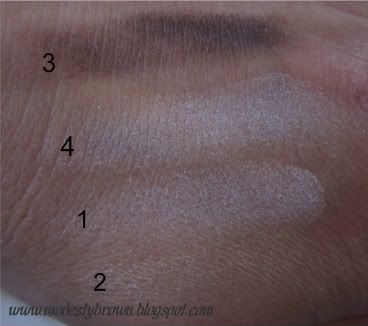 I tried to do some swatches but I apologies as the colours aren't brilliant. As they are sheer, even layered they are hard to see. I will try again to see if I can capture them. It will be interesting to see how they work on the eye. I am a little nervy with such shimmery colours but as they are quite sheer I should be ok. I'll post a FOTD using the colours very soon.
The Suqqu Lilac Allure Anniversary set priced £65 and is available Selfridges in London and Birmingham. Details of the Anniversary event can be found
here
.