This week has been a week of bold lip colours for me. I received Up the Amp as part of a swap and the Revlon Colorburst in Plum that ordered arrived yesterday. Both very different lipsticks but I love them both.
I apologise in advance for the grumpy faces. It's been a bit of a hard week in the Modesty Brown household. I think that's why I've been favouring a statement lip, somehow I feel a bit braver with full game face on. Anyway, enough ramble here are the lips!
Up the Amp
I was a little worried that I wouldn't be able to carry this off. I loved it as soon as I applied it though. It's probably a little quirky but very me!
Revlon Colorsburst in Plum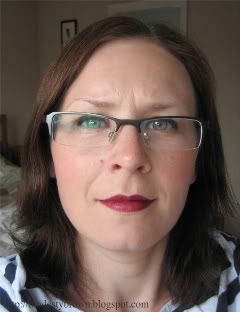 This is quite a dark colour but the feel of these lipsticks is superb. This is the make up I wore today. With a strong lip I kept the rest of my face quite bare. I have to admit these colours transport me back to my teens and early 20's. My face has more wrinkles and I've more grey than I care to admit but that's ok, today I didn't notice!
Jane x