I was reading a post by
Lollipop Loves
the other day where she mentioned that she'd never tried Clarins Beauty Flash Balm. It got me thinking out about some of the other 'Cult Beauty' items which I've never got round to trying and why.

Shu Uemura Eyelash curlers.
Or in this case any eyelash curlers. I think of all my omissions this is probably my worst. I have rubbish lashes, they're short, straight and sparse. I'm sure curling would make them look so much better. I struggle with purchases like this though as there isn't the thrill factor. Please tell me I'm not alone in bypassing function for pretty things?
NARS Orgasm
Supposedly a universally flattering shade. I covet many NARS items but not this. The idea of 'that' sort of glow appeals but I'm pretty sure I don't ever flush a shade of peach, if you know what I'm saying! I don't ever think I will be having a NARS Orgasm.
Bobbi Brown Creamy Concealer
I really ought bite the bullet and try this. With my dark circles I'm hoping it's as good as the hype. Unfortunately I was put off after I asked for a colour match at a counter. They used the corrector, concealer and powder and applied in such thick layers that it became a creased, cakey mess. I hope that on it's own, the creamy concealer would look less obvious.

Laura Mercier Tinted Moisturiser
This product interests me a lot, especially as the weather gets warmer. I'm extremely lucky that I have quite clear skin, so I mostly wear foundation to even out my skin tone. Also, I sometimes find that foundation can accentuate my fine lines. I'm intrigued to know if this (or possibly another) tinted moisturiser would be opaque enough to even out my skin. This seems to be lauded as the holy grail but I know it has some haters too, so with a £32 price tag I find myself hesitating!
Guerlain Issima Midnight secret, late night recovery treatment
I have heard tell that this is sleep in a bottle. There are times when I really need to fake rested, today being one of those particular days! I've read about it in magazines, on forums and indeed had recommendations from friends. I really should have bought it by now. The cynic in me just can't quite believe it though and refuses to let me part with £58 to find out.
YSL Faux cils
I covet this mascara and it's false lash claims (see above comment about my SSS lashes). I had a weekend away with the girls last year and spotted this in my friends make up bag. We all marveled at it, it gave her incredible lashes and had a surprisingly nice perfume for a mascara. Since then I've heard a lot of comments about how quickly this dries up. I would really like to try this but I'm actually afraid that I'd discover it was the best mascara ever and be forced spend a fortune re-purchasing.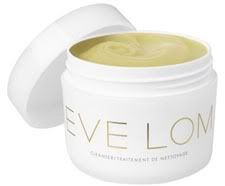 Eve Lom cleanser
Again, I really think this is an omission on my part. I love hot cloth cleansers and how they make my skin feel. It's a particular luxury for me at bed time and I'm almost certain I would enjoy it. As with most of the above, I worry whether or not the product really is worth it's hefty price tag. Though I see SpaceNK do sell a
Starter Kit
which is sensible for
tight-fisted
people like me.

Elizabeth Arden 8 hour cream
Hmmm....I often wonder why this still has such a following. I remember all the mentions it got from the models about how they used it in-flight to prevent desiccation. But knowing it's texture, I honestly can't imagine anyone applying it to their face, no more than I can imagine using vaseline as a moisturiser. For me, this is lip balm territory only and like Orgasm, there's no fear of this ever coming home with me.
As a little aside I thought I would mention some of the cult items that I have tried and what I think of them.
Love..
YSL Touche éclat
Laguna bronzer
Chanel Rouge Noir
Confused about..
Clarins Flash Balm
MAC Carbon
Benefit BadGal lash
Maybelline Great Lash
Succinct but informative I hope!
Now it's over to you. I would really love to know your thoughts on these must-haves. Do you love them, hate them or have I missed a crucial item? What do I need to run out and buy this very minute? I look forward to reading your comments.
Jane x