Do you ever have those moments when you look through your collection and realise you have a load of identical eyeshadows? Or endless versions of the same lipstick? I had one of these moments earlier. It was particularly bad as I was trying to do my eyes with two colours and I couldn't make out where one finished and the other began. Not because of my seemless blending skills but because the actual colours were just so similar.
It prompted me to swatch the eyeshadows on the back of my hand. The eyeshadows in question are Rouge Bunny Rouge Solstice Halcyon and MAC Style Snob. I included a swatch of Satin Taupe as a comparison. The colours are very similar, the differences are in the finish. Style Snob has a pinky gold frost finish with fine glitter. Solstice is more matte with a smoother texture. I'd say that Satin Taupe is the same tone but a shade or two darker and the finish is most similar to Style Snob.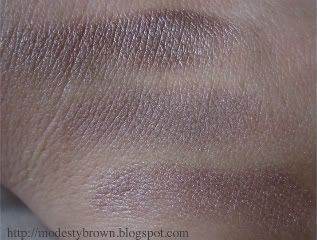 Top to Bottom: Satin Taupe, Solstice Halcyon, Style Snob
I know I have a few more similar shades in my collection. Bobbi Brown's Taupe, MAC Era, Charcoal Brown and Omega immediately spring to mind. They're not so much dupes as variations on a theme! I could probably stand to lose a few but instead I'm more likely to purchase more of the same. I've already been looking longingly at the
Kjaer Weis eyeshadow in Wisdom
that Visionary Beauty posted about. Honestly, I'm tutting at myself.
I'm just as bad with lipsticks. Rouge Bunny Rouge Irreverence, MAC Modesty and Illamasqua Test, they are all similar but I'm always drawn to these shades. Will I ever learn not to duplicate? No, it's not likely.
Is this the peril of being a make-up addict? Do you have countless similar shades or are you ruthless and never duplicate? Tell me what colours are your weakness.
Jane x