I used the Suqqu eyeshadow palette and lipgloss today and managed to get some OK photos of the make up on. I tried again to get some swatch pictures but the colours are really very subtle and sheer so it's quite awkward. I may need to try a shadow primer to see if that helps.
Anyway here are the photos.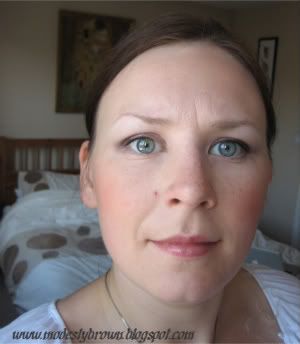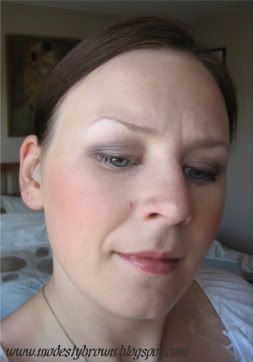 Face
No foundation - I must get some tinted moisturiser
MAC Select Moisturecover in NW20 undereye
MAC Studio Finish in NC20
NARS Loose powder in Eden
Shu Uemura H9 Seal Brown eyebrow pencil
MAC Warm Soul (wrong choice!)
Eyes
Suqqu Lilac Allure eye palette
Champagne colour all over lid up to brow bone
Blackened plum in the crease
Lilac over plum in the crease to soften
White as highlight
MAC Miss Fortune pearlglide to line
Suqqu mini mascara from set

Lips
The mauve gloss
I think you can probably see from the photos that all the colours apart from the crease colour are very subtle. The light shades all have quite a lot of shimmer so I think next time I'll will use the palette in combination with mattes. I feel a bit too old to pull off lots of shimmer. Having said that, I do feel it creates a very pretty, soft look. I may also try to copy the smokey eye look from the
promo pics
. I tried the eyeshadow brush from the eye palette and rather than the usual afterthought it's excellent quality and so soft. It's done nothing to dampen desire for a full size brush!
I hope this has been helpful in letting you see the colours in action.