I'm sorry it's taken a few days, but I finally managed to choose my prizes.
So here they are!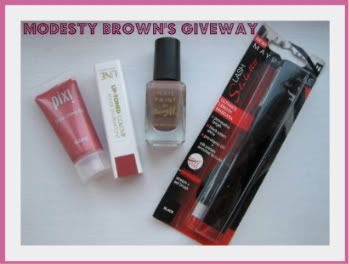 Pixi Sheer Cheek Gel No.1 Natural
Barry M Nail Paint in Mushroom
Une Lip-Toned Colour in L06
Maybelline Lash Stiletto in Black
The Pixi gel, the Une lipstick and the nail varnish I chose because I've heard lots about them and would be interested to hear what they're like. I also wanted to include a favourite of mine, the Lash Stiletto. It's the only mascara I've come across so far that actually makes my lashes longer.
The Rules
• To enter I would like you to tell me about your favourite foundation as a comment. I'm on the look out for a new one and would love to know what you really rate.
• The giveaway is open to everyone and I'm more than happy to post anywhere in the world. (If you're not a subscriber please leave me an email address).
• The competition will close on 27th June at 10pm (UK time) and the winner will be chosen at random from names in a hat, for which I will no doubt be using child labour! I'll announce the winner on the blog so that you cam email me your details.
Good luck and I shall look forward to reading you entries!
Jane x