I spend a lot of time talking about new favourties and what I'd like to get next. So, I thought it was high time I gave a mention to some of my old favourites. I apologise in advance as not all of these colours are still available but I thought it would be interesting to share with you anyhow.
Eyeshadows
The first eyeshadows I wanted to mention are from the only quad I've ever purchased from MAC. It's the Smoking Quad from the Smoke Signals collection, released September 2007. I remember going to buy this extremely well as I was overdue with William and waddled in to MAC having contractions! The colours that I love from this palette are Next to Nothing and Satin Taupe. Next to Nothing is a flesh coloured beige with champagne shimmer. It's limited edition but I believe it has been re-released a few times. Satin Taupe is a bit of a ubiquitous MAC colour but I love it all the same. After years of trying colours that were too warm for me this was a revelation. I have worn it both as a lid colour and crease colour and feel it works well either way.
<
Left; Next to Nothing, Right; Satin Taupe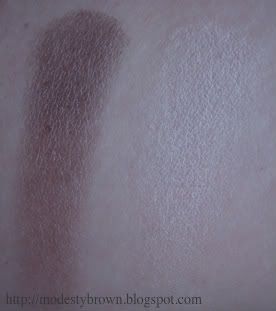 Left; Satin Taupe, Right ; Next to Nothing
My other favourite eyeshadow colours are Brule and Omega (both MAC again). I bought Brule after watching Nic from Pixiwoo do her
corner lashes look
. It's a nude beige and is close to skin colour for me as you can probably tell from the swatch below. I'll often use this all over the eye to even out any discolouration. I also use it a lot to help blend out crease colours, both above the crease and at the outer edge of my eye if I've taken colour out too far.
Omega is a really naturally crease colour for me and I picked it up when I was unable to get Wedge. I quite often use Brule over the eye, with Omega in the crease and a gel eyeliner to give a simple defined eye. I also use Omega as a brow powder, it's great for that as it has no red tones. Though after purchasing the Shu Seal Brown pencil it's been a bit negleted for my brows!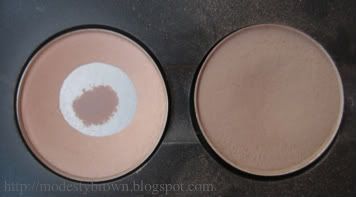 Left; Brule, Right; Omega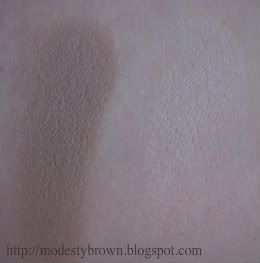 Left; Omega, Right; Brule
Eyeliners
I was astonished when I was pulling out items for this post, just how many eyeliners I have. I'm obviously a big fan! I wear glasses so I do find my eyes disappear if I don't line them. I also think I mentioned to someone the other day, if I don't use a liner you can see all my mascara blob marks more easily. Ooops! Maybe I should start putting mascara on first then cleaning up? Anyway, I digress.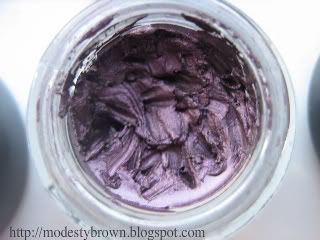 The first eyeliner I want to mention is MAC fluidline in Macroviolet (pictured above). I purchased this a long time ago and it really need replacing now. I know MAC fluidlines aren't for everyone but I absolutely adore this colour. It's a slightly metallic violet and is dark enough to add definition but not so much that you can't see the colour. I've often worn it with Brule as an all over and MAC Mink Pink as a crease colour to make a bit of a change from the usual brown or taupe.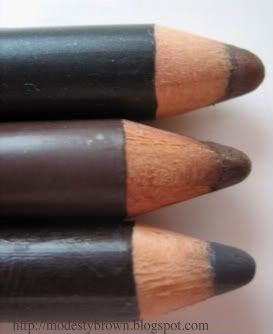 Top to Bottom; MAC Teddy, TBS Rich Brown, Rimmel Hurricane Grey

Top to Bottom; TBS Rich Brown, Rimmel Hurricane Grey, MAC Teddy
I've had and loved these eye pencils for a long time. They're all really easy to wear for me so they're great for when I'm in a rush. The brown is from the The Body Shop and is their Rich Brown eye definer. It looks quite dark in the swatch but somehow seems more chocolately on my eyes. I didn't realise until recently that it works well for me because it doesn't have much red in it. The grey is Rimmel's eye pencil in 164 Hurricane Grey which as the name describes it's a stormy grey. I find I can't wear greys generally but this one somehow works. MAC Teddy eye kohl is real favourite and I will definitely re-purchase when it runs out. It's a bronzey brown colour and works well as a just a line or smudged out. This is one of the few things recommended for my eye colour that does look good on me (if I do say so myself!). I know this one is still available as it's part of MAC's permanent line, whereas as I'm not sure if the other two have been discontinued.
Lips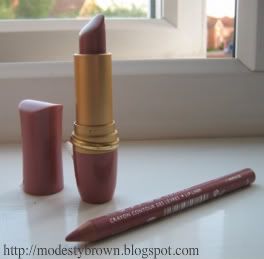 Bourjois lipstick and lip liner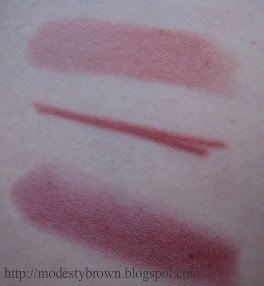 Top to Bottom; Bourjois Cannelle rosée, Bourjois Enjôleuse lip liner, Rimmel Temptress lipstick
I'm extremely fond of this Bourjois lipstick as it's the colour I wore on my wedding day. The colour is Cannelle rosée (no.45) and whilst investigating last night this was the only shade they no longer had! It's a rosy pink and is very similar to my Rouge Bunny Rouge Irreverence, though with a slightly more orange hue to it. The Bourjois lip liner is in the shade Enjôleuse (no.11). This again is a rosy pink, though a bit darker than the lipstick. It's quite similar to my lip colour so it is really handy. I have been known to wear this smudged all over my lips with a bit of gloss.
The last lipstick I wanted to mention is Rimmel Temptress. It is a Sheer Temptation lipstick which again I think is discontinued. The shade is quite a a dark metallic plum. I'm not entirely sure what made me pick this up as it isn't a usually choice for me but I'm very glad I did. It's a lovely colour, the formula is easy to wear and with of slick I instantly feel 'done'.

Blusher
I've mentioned this before in my
blush collection
post. I've had MAC Northern Lights MSF for years now. I think it might have been amongst my first MAC purchases. I'd been recommended this to use as a blush for my colouring. I don't wear it as much these days but I can't bring myself to part with it despite the glitter. It gives a lovely sheen to the cheeks and looks nice on it's own or over a matte blusher.
Do you have old favourites lurking in your make up bag?
Jane x