Rouge Bunny Rouge Irreverence
I've waxed lyrical about this enough already, so I'm sure it's no surprise this is on my favourites list. The Rouge Bunny Rouge lipsticks have a beautiful moisturising texture and this particular shade is a perfect rosy everyday colour on me.
Rouge Bunny Rouge Raven Glaze Lacquer Liner
This was a surprisingly great purchase for me this year. It's got a fine and non-scratchy tip and I find it very easy to draw a fine line with it. It's also great for getting liner right up close to the lashes so that I don't end up with that tell tale gap at the roots.
Hourglass Film Noir mascara
I was sent this for review and it rapidly became a tremendous favourite. I've never really used expensive mascaras before and I was convinced there wouldn't be any difference. I had to eat my words though, as this is pretty much HG territory for me. It makes my lashes really black and more obvious, it feels soft and it never smudges or flakes. I particularly like the effect of this with the RBR Lacquer liner as it gives the illusion of much thicker lashes.
MAC Hug Me
This is similar to Irreverence for me. It's a pretty, everyday colour that just gives a slightly more polished look to the lips. If I'm ever unsure what colour to wear, I'll reach for this.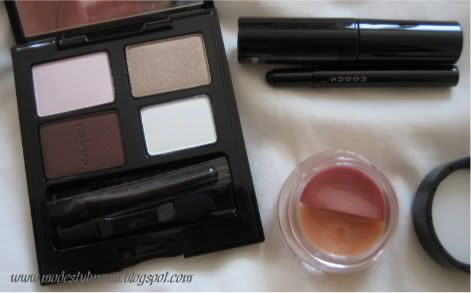 Lilac Allure Anniversary set
Guerlain Rue de Passy and Suqqu EX-07 Blend Eyeshadow palettes
I really wanted to include one of these palettes and couldn't decide which one. So I gave up and thought I'd mention both! I'll often pick these out when I need a quick but sophisticated look. The Suqqu in particular has been on the train with me a few times. It may be surprising to see Rue de Passy on here after my initial disappointment. It maybe isn't as versatile as I'd hoped it would be but I really like the colours and that fact that I can create a simple no fuss eye look very quickly.
Edward Bess After Sunset Compact Rouge
The texture of the compact rouge blushers is amazing. Creamy, light and without even a hint of greasiness. This colour maybe isn't instantly appealing in the pan but I love it for the definition it gives my cheeks. It's another one that's really handy for travel. I'm rather keen on the fig scent too.
RMK Concealer
This has been a good under-eye concealer for me. It provides decent coverage and doesn't move around too much. It also has the added benefit of being pigmented enough to conceal blemishes so I like to keep this in my handbag. It's quite yellow based so I'm not sure this would suit everyone but it has peaked my interest in trying more RMK products.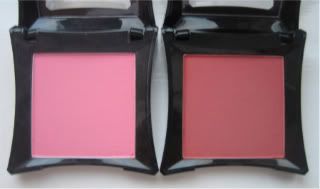 Illamasqua Unrequited and Beg Blushers
Illamasqua Unrequited blusher
This blusher looks candy pink in the pan but isn't the least bit frightening on my cheeks. It just gives me a nice, healthy glow. Illamasqua blushers are lovely to use, they're pigmented, finely milled and long wearing. I've reached for this all year round and I find it goes with a variety of looks. After success with this, my first pink blusher, I went on to get quite a few more but I most often come back to this one.
Which items have been your favourites of 2010? Have you found any holy grail items this year?