I've got a few new bits recently that I wanted to share with you. The first thing I wanted to mention is another Revlon Colorburst lipstick. I went in to Superdrug and swatched Blush and picked one up to buy. I unwrapped it the following day only to realise what I bought was Rosy Nude and not Blush at all! That is the folly of going shopping with a baby and a toddler.
Anyway, enough ramble. Rosy Nude is lovely but extremely similar to MAC Cosmo and Laura Mercier Pink Cocoa. I'll talk more about the similarity in another post. Here are a couple of pictures of Rosy Nude below. The lipstick is like the other Colorbursts in that it is relatively sheer and very glossy. I find it a very wearable shade.
I received MAC Club eyeshadow and So Ceylon MSFs a couple of days ago via a swap. Both of these are items that have been on my wishlist a long time! I have included a photo of Club in the pan and also applied on my eye (swatches are further down). Club is described on the MAC website as a muted reddish brown duochrome with opalescent shimmer. I have read lots of great reviews about this eyeshadow and it certainly wasn't a disappointment. It's a gorgeous colour, I don't find it particularly red either. I know quite a lot of people report problems with this looking muddy without a base. I was relieved to find this wasn't the case for me, especially as I don't have any appropriate cream bases. I'm sure I'm going to reach for this colour a lot.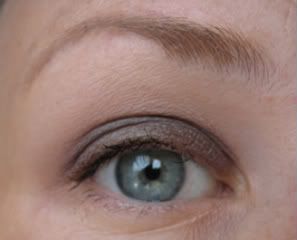 I've been interested in trying MAC So Ceylon MSF for some time. I had seen a few of
TiffanyD's
tutorials where she used this as a bronzer and I thought it looked very subtle. I'm a bit on the fence about MSF's generally (I don't think you'll see any In The Groove posts from me) but I thought I'd give it a chance. Well, I'm undecided so far. It's ok but I'm not in love. I think I really need to wait until my face isn't so tanned to make a better judgment.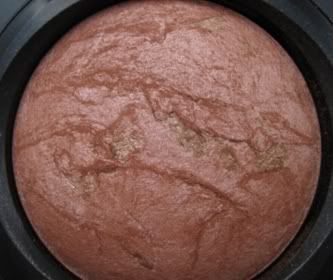 Here are some swatches of all three items. From top to bottom, So Ceylon, Rosy Nude and Club.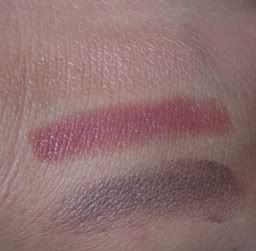 This was yesterday's face wearing Club, So Ceylon and Rosy Nude. I know it's very hot at the moment but the 'glow' isn't down to the heat but thanks to the Hourglass Tinted Moisturiser I was wearing. Although it's only a sample, I might talk about this in a different post.
Apologies for the green brows too, I think I must have had some of the tinted moisturiser in my brows when I put the pencil, oops!
Jane x