I went for a long overdue trip to the hairdressers on Friday. It wasn't a salon I had been to before and in the run up to the appointment I felt a mixture of excitement and nerves. I have to admit, as all I wanted was a tidy up, I really thought there was little chance it could go wrong. I was obviously mistaken...
This is how I thought the consultation went...
Hairdresser
: "So, what are we doing today?"
Me
: "Just a little tidy up please. I haven't had it cut for about 6 month so it needs a bit of re-shaping but I'd like to keep the length."
Hairdresser
: "So you'd like to keep the layers long then?"
Me
: "Yes, I'm not keen on short layers as my hair tends to puff out with short layers".
Hairdresser
: "What about a side-fringe?"
Me
: Slightly panic-stricken look "No fringe thank you."
Hairdresser
: "Ok, we'll just do a bit of shaping around the face then."
Unfortunately this is what the hairdresser heard...
Hairdresser
: "So, you want the mushroom effect, layered 'Rachel' cut that you've been given for the past 15 years despite what you asked for?"
Me
: "No thanks, it makes me look stupid."
Hairdresser
: "Ok, I'll give you the 'Rachel' cut."
I sat in the chair. The trim before the blow dry looked ok. My hair was dried and the layering commenced! My heart sank as I realised what was happening. I was just about to say something when someone came over to tell the stylist that her next client had arrived early and before I knew it, I was being ushered out of the chair.
Although I specifically said no short layers, I have had a layer cut all the way around about level with bottom of my ears. It's like some kind of bob-mullet. I have been given this haircut so many times, I already know that I hate it. I know I'm not alone in receiving this particular style either so I rather assume it must be a taught style or it's particularly easy to do. However, for me as a person it's neither flattering not does it suit the way my hair falls naturally. I washed and dried it this morning and as I had anticipated, my hair mushrooms out around my ears, goes back in and then flicks out Andy Pandy style at my shoulders.
THE EVIDENCE
The mullet shot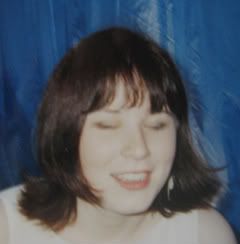 14 years earlier, it still didn't do me any favours. At least the makeup has improved!
I'm not sure what the remedy is for this particular hair disaster. I could go back and complain (I still might) but for now I can't see an easy way to correct it. I think I'll have to suck it up and wait for the shortest layers to reach below my jaw and then have it cut into a bob again. Sadly it has done nothing to help my hairdresser nerves.
I will just leave you with what Jennifer Aniston recently said of the 'Rachel' to American Allure.
'I think it was the ugliest haircut I've ever seen,'. 'What I really want to know is, how did that thing have legs?'
Right, I'm off to look for some hair manure. Or maybe just a big hat!