Well, I didn't have to wait long for my Edward Bess order to come from Zuneta at all. It arrived yesterday and my lovely postman caught me on my way home so that I didn't have to miss my package. I could have kissed him!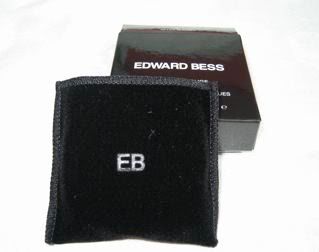 I've included a couple of gratuitous shots of the packaging just so you can see how beautiful and sophisticated it is. I love that the Compact Rouge (above) comes in a little velvet case to protect it from smudgy finger prints.
On the night of the launch I picked out these items, an Ultra Slick lipstick in Forever Yours and a Compact Rouge creme blush in After Sunset.
With the lipsticks I was torn between Tender Love and Forever Yours, they appear very similar when swatched on my skin the only obvious difference was the finish as Forever Yours is a frost. I've no doubt that I'll give in to temptation at some point and get Tender Love as well.
On the Zuneta website Forever Yours is described as a cool frosted rose which I think is a pretty accurate description. I'm not usually a fan of frosts but this is very subtle and just adds a pretty shine to the lips. As with all of the Edward Bess lipsticks, this has a fig scent which I find quite pleasant. The feel on the lips is very light and moisturising, and just like the Secret Desire lipstick, I find the colour and lovely balm feeling last a long time.
Above is the Compact Rouge in After Sunset. There are three shades of Compact Rouge and I find this the most neutral. This is described as a warm bronzey rose and I really like the muted, brown tone to it. As I mentioned in my previous post I love the texture of these, they're not greasy but have a good amount of slip to them. I found it easy to create a naturally flush without overdoing it. I also found when swatching that it's quite easy to layer if you find you need to add more colour.
Swatches from top to bottom: After Sunset blended, After Sunset heavily swatched, Forever Yours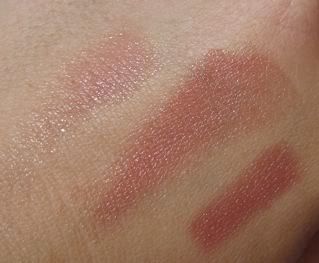 I wanted to include this second picture as I think it captures the sheen of both the blush and lipstick nicely.
I am extremely happy with these choices. My only regret is that I didn't get the Luminous Eyeshadow in Dusk as well now that I have seen A Model Recommends post and video. I will hopefully do a Face of the Day with both of these very soon so that you can get more of an idea of how they look.

Both products are available from www.zuneta.com. The Ultra Slick lipstick in Forever Yours is priced £24.01 and the Compact Rouge in After Sunset is £30.