I think you may need to sit down for this. I went to the hairdressers and I actually enjoyed it!
I was very kindly invited to
Eleven in Mayfair
for a cut and as is often the case when I go to the hairdressers, I was more than a little nervous. After hitting London at rush hour and tackling the crowds on Oxford Street it was a relief to arrive at the salon. It was a lovely oasis of calm. I was greeted with a friendly smile and Becky , my stylist, immediately set me at ease. The first thing I noticed about Becky was her amazing style. I almost knew from that moment I was going to get a great cut. I was offered a cup of tea and we had a little chat about what style I wanted. I'd taken in the pictures that proved popular in
this
post, I thought it might be a little strange to take along pictures of myself but I wasn't made to feel silly at all.
Becky washed my hair and we had a chat about shampoo and conditioner brands. My immense dislike of Pantene came up and we also chatted about SLS free shampoos. They use and stock the
Pureology range
at Eleven, I was especially interested in this as I've read quite a lot about SLS free products in
Makeup Savvy's
posts. Apparently the shampoos do foam which is unusual for SLS free products. After my hair was washed, I had a wonderful head massage whilst my conditioner was on and it felt so relaxing.
Becky had quickly grasped what I was after from my photos and from what was frankly quite a vague description on my part! A choppy bob with texture and shaping into the back. We chatted about the time I spend styling my hair and how I dry it. I think this is crucial as there's little point in creating a style I can't work with day to day. I leave my hair to dry naturally most days which is why I thought a messy style would be the best option.
Whilst Becky was cutting my hair we chatted about lots of different things; how Becky got into hairdressing, skincare and ageing. We also had a conversation with one of the other stylists about Brian Dowling's late night insomnia phone in. Entertaining stuff! I was privileged to see a Brazilian blow dry in action whilst I was there as well. If you've not come across this treatment before it involves coating the hair with keratin which leaves hair frizz free and straight for up to 3 months. There are more details about the treatment
here
on the salon's website. As someone with hair that is very prone to frizz and very lazy styling habits, I'll admit this sounds marvellous. I will certainly be investigating this more!
When I go for a haircut I love to watch a stylist at work. I think it really is an art when it's done well. The more I saw the shape my hair was taking the more I loved it. I don't say this lightly as this has often been the point at which my heart sinks. I even noticed that my hair colour looked a lot better. Taking the length out helped the colour look less blocky and got rid of the goth edge to it after my hair dye disaster.
So, I won't keep you waiting any longer. Here is the final result.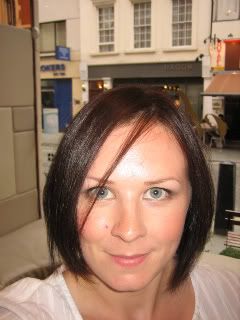 I absolutely love it and can honestly say I've never been so happy with a cut. Also, as I saw the shape before it was blow dried, I can tell it's going to look great when it's left to dry naturally. Becky did an amazing job and I've already received compliments from my husband and friends.
I would thoroughly recommend a trip to see Becky at Eleven. Great cut, lovely salon and friendly atmosphere. I look forward to a return visit!
Eleven Hair can be found at 11 Blenheim Street Mayfair. Prices range from £55 to £85 for a cut and blowdry. Full details are available on their website
www.http://www.eleven-hair.com/
.