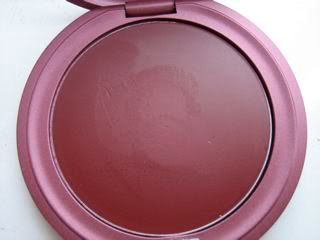 I received this in a swap I did with
Soulful Suga
recently. I don't think I've ever owned any Stila before but I'd always been interested in the convertible colour so I was really pleased to get it.
The swatch at the top is the colour blended and the bottom shows a couple of layers unblended. To me this is a deep pink berry type colour. It isn't quite as creamy as say an Illamasqua creme blush or the Edward Bess compact rouge but it's easy enough to blend it out. A little goes a long way so it's best to start with a very small amount and build on it as required. I can see it would be quite easy to overdo this and look a bit clownish!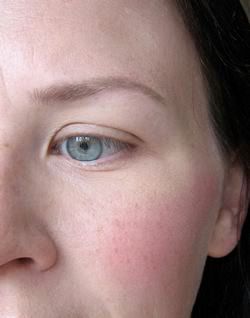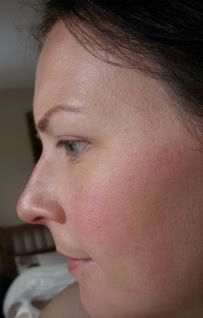 I've included a couple of angles so hopefully you can get a proper idea of how it looks on the cheek (there's also a picture of it in
yesterday's post
as the 'other' colour I was wearing!). It definitely comes out as a pinkish shade rather than red on my cheeks. I also managed to keep it quite sheer with blending as you can still see my freckles underneath. I've really enjoyed using this colour and I think I'll be reaching for it quite a bit. It's also lasted very well, I put it on this morning and it's still going strong. My only gripe about this product is the packaging. It's quite tricky to get it open, even more so than the Illamasqua blushers. I can see you could easily wreck a manicure trying to get into it.
Do you own any of the convertible colours? Do you like them or have any particular recommendations of other colours to try?