After my error with Rosy Nude, it prompted me to do a little photo comparison of my lipsticks. I thought it might be useful for anyone interested in any of these particular shades.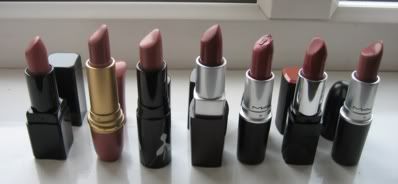 In all three pictures from left to right: Illamasqua Test, Bourjois Cannelle Rosée, Rouge Bunny Rouge Irreverence, Laura Mercier Pink Cocoa, MAC Cosmo, Revlon Colorburst Rosy Nude, MAC Hug Me.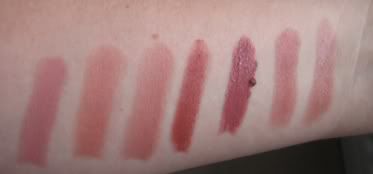 With the exception of Illamasqua Test, which is a matte, all of these lipsticks are a satin type finish. I say 'type' as Hug Me is a Lustre and Cosmo an amplified cream but by satin I mean that they are impart a sheen without any frost . MAC Hug Me is the most sheer with Revlon Colorburst in Rosy Nude and RBR Irreverence following behind.
They are all brownie pinks but range from the beige toned to an almost reddy brown. It's interesting to see them lined up like this as although I consider some of them dupes on my lips, on my arm I can appreciate the subtle differences (keep telling yourself that Jane!).
I would group the three darkest colours together and certainly on my lips they are extremely similar. The Laura Mercier leans more red whereas Cosmo is definitely a dark pink. Rosy Nude is most similar to Cosmo though is it more sheer.
I do love all of these colours and, with the exception of Rosy Nude, I know they will always get plenty of wear. I'm going to exchange Rosy Nude with a friend as it is so close to Cosmo (and I already have two of them) but I do think this is a lovely colour and can recommend giving it a try.
I hope this was helpful.
Jane x