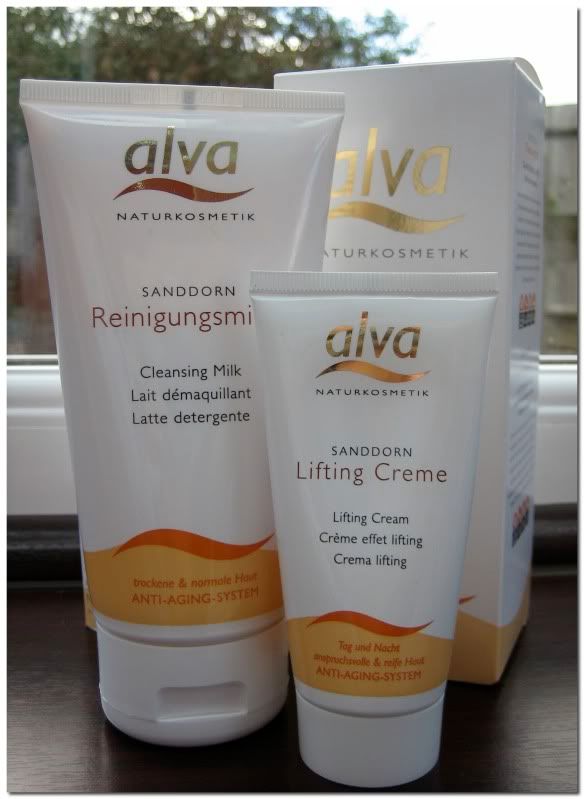 I came across the Alva Skincare range when I had my makeover with Oxford Jasmine. I really liked the Lifting Cream that was applied before my make up, it felt nice on and it made a great base for applying foundation. I was very kindly sent a few items from Alva to try. In this review I'm going to talk about the Cleansing Milk and Lifting cream from the Sanddorn Anti-Ageing range.
Alva Skincare is natural and organic and also cruelty free. You can see more product information on their
website
. The
Sanddorn skincare
is their anti-ageing range and contain organic sea buckthorn. Amongst other things, the oil from sea buckthorn contains provitamin A and vitamin E as well as having an intrinsic SPF of 4. If you've ever read
Beauty Mouth's
dissection of which ingredients are genuinely anti-ageing you'll see these are up there. The buckthorn oil is blended with other ingredients for maximum effect.
All of the photos are clickable so you can enlarge to see the writing.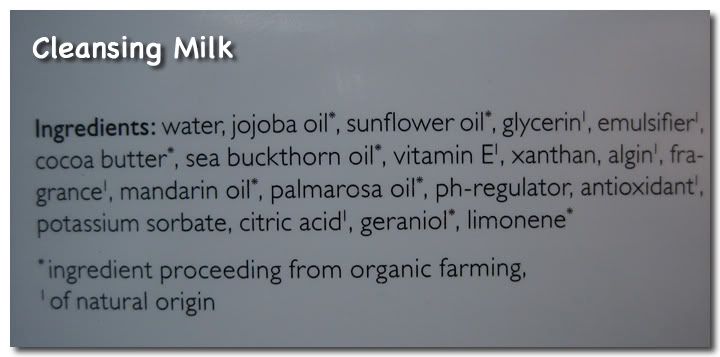 I have been using the cleansing milk for just over two weeks now. I use it to remove my make up at night. My method of choice for cleanser is to squirt a bit on my fingers, massage in to my face and then remove using a damp muslin cloth. The first time I used it I didn't immediately apply moisturiser and was amazed at how smooth and soft my skin felt. Even the man-friend was impressed which is no small feat. I realise this can be used to remove eye make up as well but I always use a separate eye make up remover (some habits die hard) so I can't comment on how well this works. However, for the rest of my face, I find this removes make up well and I don't feel the need to double cleanse. It leaves my skin soft and there is no greasy residue. The cleanser isn't scented but you get a faint smell of what I assume is the sea buckthorn and other ingredients. It's not unpleasant but if you're used to a scented cleanser this may be a little different.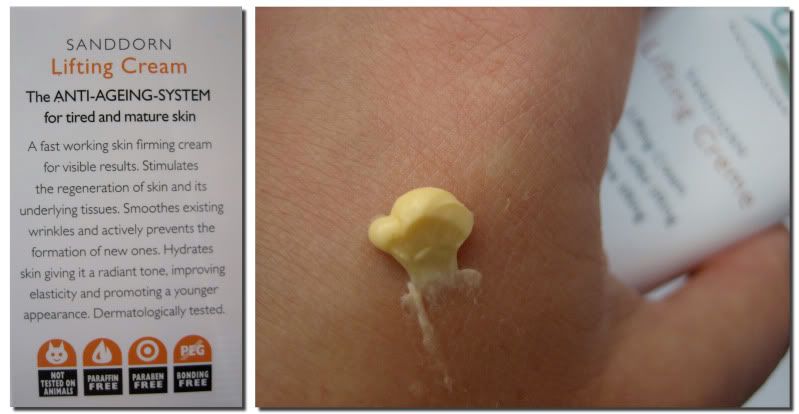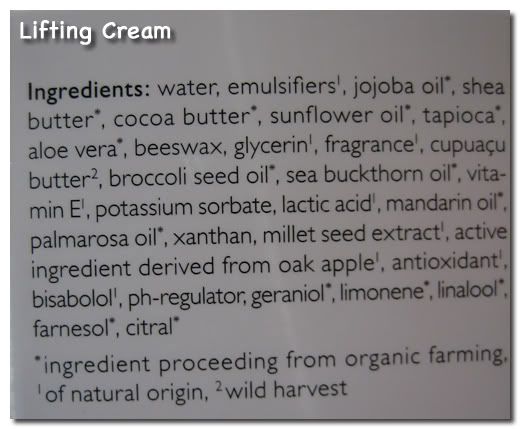 The lifting cream has the same apricot colour as the cleansing milk. I quite like creams this colour as I think they can pep the skin up a bit. My skin definitely looks better when I apply this, which is probably due to the lifting effect too. As I mentioned, I find the cream provides a good base for make up. I have been using this morning and night and didn't feel the need to swap to a more rich cream at night. It's tricky to gauge the impact on my lines as I'd found the Nuxe cream had left my skin in really good shape, so I wasn't expecation to see any further reduction. My fine lines and frown lines are still feeling plumped out and my forehead feels nice and smooth so I've found it's been very good at maintaining the previous good work.
I have really enjoyed using both of these products and will continue to use until they are empty. I can definitely see me re-purchasing the cleansing milk too as this has been a real hit for me.
Disclaimer: These products were provided without cost for review purposes.