Today we have another guest post from Katie at
My Lips But Better
. I've loved chatting with Katie and I find her reviews so helpful. I'm really pleased she agreed to do these Make Up Forever posts. So, without further a do take it away MLBB!
They say...
Make Up For Ever Aqua Cream is an ultra-pigmented, long-lasting waterproof cream. Combines the highest-quality pigments with mother of pearl particles to give immediate rich color payoff with a luminous finish in just one application. Long-lasting formulation will not crease or smudge under the most extreme conditions and the creamy and elastic texture allows for easy blending.
I say...
Ever since MAC discontinued some Paint Pots, I've been on the hunt for a good cream shadow. I was very impressed by MUFE's claims of all day staying power and taken aback by the level of pigment in
So I went off to Sephora and bought #2, a shimmering silver taupe. The closest thing in my collection is Benefit Skinny Jeans, which by comparison has less shimmer and is warmer.

I tested #2 during the last few weeks of summer heat here and am pleased to say that they do not budge! Without primer, the shadow looked fresh for 10 hours. Even after the 10 hour mark, there was plenty of color and shimmer to be seen, but it wasn't as intense as when I first applied.
The texture is smooth and slick; it felt less creamy and dense than Benefit Creaseless Cream Shadows (which don't last as long without a primer). My Aqua Cream was quite shimmery, but shades 5-10 are shimmer-free. Aqua Creams aren't just eyeshadows either! All shades are safe for eyes and cheeks, and shades 5-10 are also lip-safe.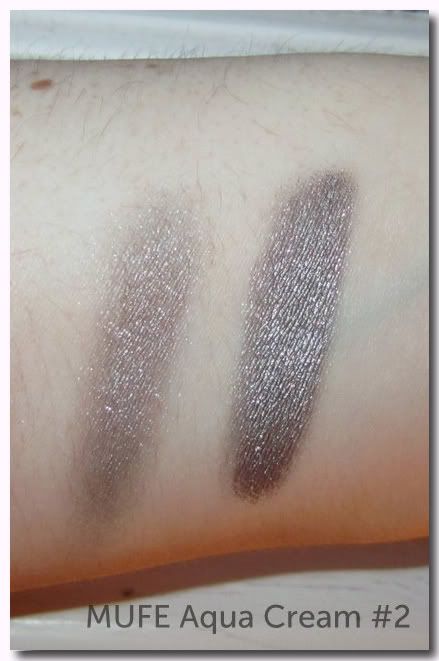 I recommend applying these with a finger if you can, so if you're a makeup artist or just funny about germs, consider scooping out some product with a cotton bud and then applying with fingers. The heat from your hand melts the product so it applies smoothly and evenly.
My only suggestion for Aqua Creams would be to add some muted colors. I understand that MUFE has traditionally been a professional brand, but since they've moved into Sephora I hope they will embrace the mass market. And that's hardly a criticism... I'm merely asking for more!
You can purchase MUFE Aqua Creams at Sephora in the US ($22 for .21 oz) or
www.makeup-provisions.com
in the UK (£15.50 for 6 g).
Bottom Line
Aqua Creams have impressive staying power and great color payoff. If you see a shade you like, get it!
Thank you Katie for another excellent review! If you fancy trying MUFE HD foundation, don't forget about the discount for readers which is available till the end of this month. You can get a 15% discount on MUFE HD Foundation through
Makeup Artist Provisions online store
. The offer is available for the first 100 to quote MODESTY online before 30th of September.