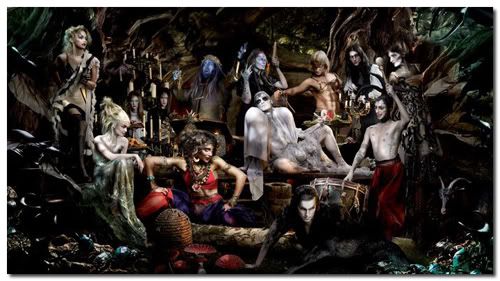 The
Art of Darkness collection
is here! I've been really looking forward to this release after seeing snippets of information over the past few weeks. The visuals feature 13 different fantastical creatures created by Alex Box, including the Dark Angel and Wanton Woman which are my particular favourites!
The collection itself is full of amazing jewel colours. There are three new liquid metals: Stoic, a metallic emerald; Resolute, a metallic ruby and Superior, a metallic sapphire. There is also a new liquid metals palette that includes all three of the new colours as well as the old favourite, Solstice.
Of the two new pigments, I have seriously fallen for Alluvium, a beautiful iridescent blue. I've seen several swatches and it looks amazing. I'm also very taken by the nail polishes too. Scarab is a deep metallic ruby as worn by the Queen of Gypsies character. Viridian is a stunning peacock green and I can see this being extremely popular. You can see the full collection
here.
MizzWorthy is currently hosting a fabulous contest where winners will receive the entire Art of Darkness collection as well as a place on MUSE's "Catwalk Trends Makeup Bootcamp". If you're inspired to try your hand at creating a 14th character, pop along to
MizzWorthy's blog
to see details on how to enter!
Will you be you getting anything from this collection?