I was really excited when Katie from the excellent
My Lips But Better
contacted me about swapping some guest posts. I thought I'd make the most of the opportunity and asked Katie if she wouldn't mind reviewing some Make Up For Ever products for me. I have been toying with making a purchase from this brand for a long time but find it awkward as it's relatively hard to get hold of UK and mostly purchasing is done blind. I always find it really useful to browse swatches and reviews in these circumstances. So, take it away Katie!
THEY SAY…

Rouge Artist Intense is a highly pigmented, long-lasting lipstick that delivers rich color in one stroke. Formulated with 50% more pigment than the traditional lipstick, Rouge Artist Intense gives an immediate true-to-color result. A blend of three natural waxes, the creamy texture glides on effortlessly for a long-lasting hold. The extensive color and texture range provides unlimited creativity.
I SAY…
They aren't kidding about the pigment! I wouldn't doubt that all of
these swatches
were done with one stroke of color, and to be honest that's pretty amazing.
I'm also impressed by the staying power of Rouge Artist Intense. On my lips they last a good 4-5 hours, and would probably last longer if I didn't eat lunch in the middle of the day (that pesky eating thing is always getting in the way…) The color lasts through a drink (or three), so you can count on these if you're going somewhere for cocktails.
The key to the lasting power is the satin formula, which I would describe as semi-matte. I can't comment on the matte or pearly formulas because I only own #30 (mauvey nude) and #35 (raspberry), which are satin finish shades. In my collection, the next closest formula is Revlon Matte (the MUFE lipsticks have a hint more sheen).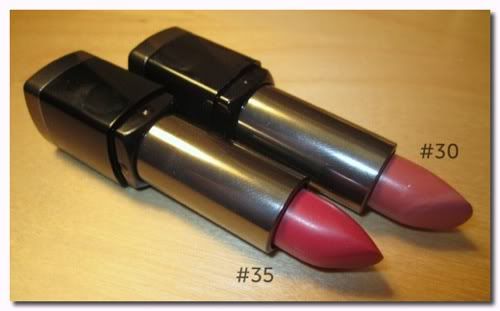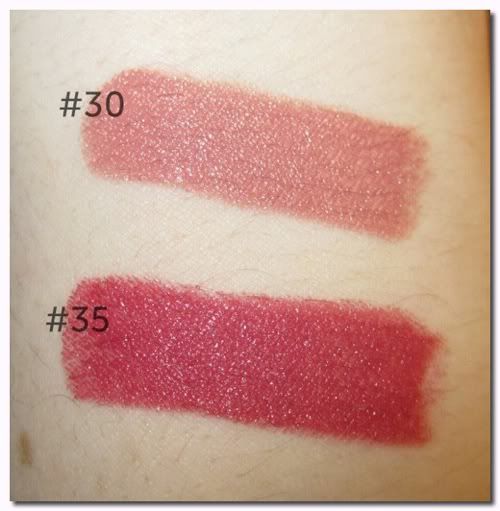 I find that the formula feels great right after applying but can suck the moisture out of my lips after a few hours. That's the tradeoff with lipsticks – you either get moisture or lasting power. Some people try to combat this by applying balm underneath the lipstick. In my experience this prevents the lipstick from bonding properly to your lips, so I don't recommend it. Instead, try applying balm or gloss on top.
Rouge Artist Intense lipsticks are supposed to smell like roses, but I find that the scent is strikingly similar to Chanel lipsticks. The packaging is sleek and functional with a cap that clicks tightly into place. The labels on the bottom are even color-coded for easy location! My one beef is that the shiny metal shows every imaginable fingerprint. Less neurotic people probably wouldn't be bothered by this.
Thanks Katie for the excellent review. I've been in touch with the lovely people at Makeup Artists Provisions and I have great news! As my readers you can get a 15% discount on MUFE HD Foundation through
Makeup Artist Provisions online store
. The offer is available for the first 100 to quote MODESTY online before 30th of Sept. This is excellent news if like me you've never got round to trying this cult favourite.