I think this post signals my final acceptance that nudes just aren't for me. I have tried hard to make it work, blotting it, wearing it with gloss, using it with other colours. In all honesty, I just don't think any make up should involve that much work! So, Darling, I'm very sorry but I just don't think it's working. No, it's not you, it's me......
Here comes the proof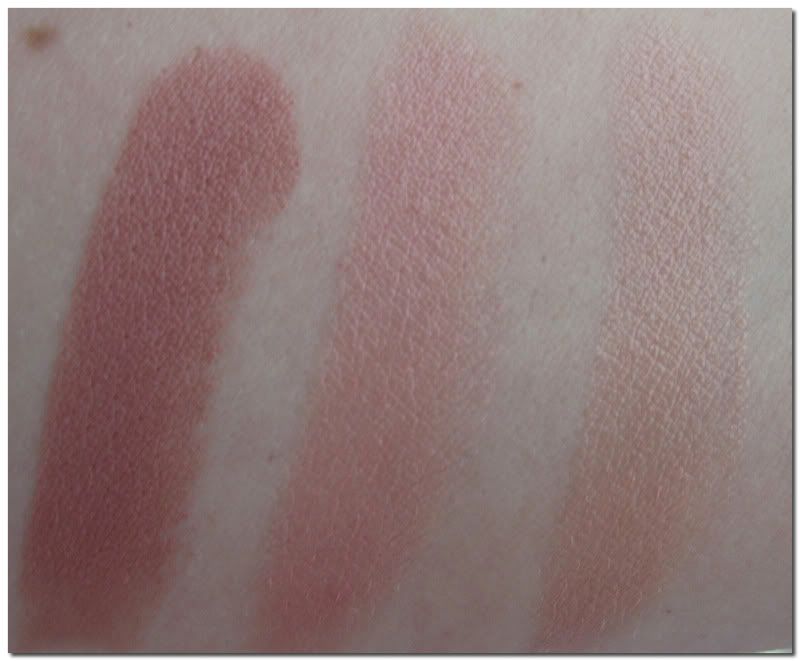 As ever I have done that silly thing of taking photos of the lipsticks and the swatches the opposite way round. In the pictures of the lipstick, from left to right, we have GOSH Darling, MAC Hue and MAC Blankety. They are reversed in the swatches. As you can see from the both pictures, Darling is exceptionally pale. Hue is a pale pink and for a glaze finish I think it's fairly pigmented. Blankety is a much darker 'nude', in comparison to the other two it looks very dark. On my lips, I still think of it as a nude colour. I have to be careful with application otherwise my natural colour is visible.
Brace yourself for it. These are the colours on my lips. I will warn you now, it's not pretty!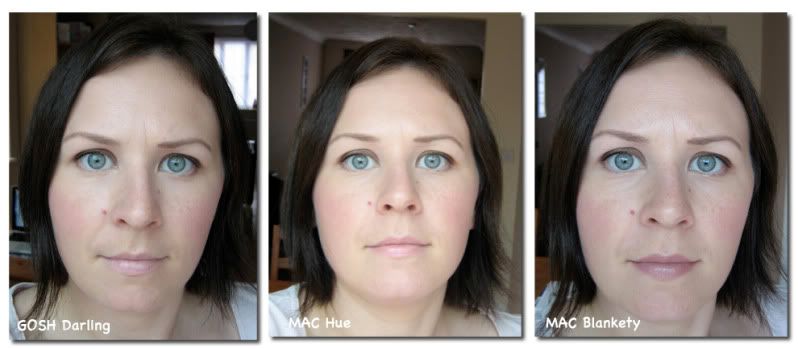 I find that Darling and Hue really just aren't wearable for me. GOSH Darling, although it feels quite creamy on my lips, just accentuates any dryness and I find it impossible to get an even application. Hue is a little better. The coverage is better and more even than Darling but again, it has a tendency to show up flaws. Blankety is fine, though in this line up it feels hard to pass it off as a nude.
I do apologise for the face pictures, I don't think I've ever look less pleased in a photo. There is an explanation for this, as this was the only other alternative. Feel free to insert your own caption!