If you follow me on twitter you probably already know that I was lucky enough to spend some of Sunday afternoon with the very lovely
Oxford Jasmine
. After a conversation which started on twitter, Jasmine invited me round for a makeover and of course I jumped at the chance. I'd seen the video of her studio so was more than happy to have opportunity for a nosy in those draws, as well as get a lesson from a makeup expert.
Jasmine asked in advance if I had any particular make up concerns or issues. Top of the list was the worry that with my new school run routine, I'd be going out bare faced unless I could learn a quick and easy face! On the day we looked at some images for inspiration and I picked out a photo that was a very subtle, almost nude make up look. Probably a little boring of me but the words of my Mother from my own school days still ring in my ears "It's school, not a fashion parade"! It also gave Jasmine opportunity to show me some placement tips and tricks to make the most of my features.
Here is the photo of the quick day look. I was really pleased with how it looked and I loved how Jasmine had done my eyes. She used a matte light brown/beige from the UD Naked palette as a natural crease colour. The colour was concentrated on the outer part of the crease and the inner corner to give more dimension to my eyes. As I was able to compare the difference with and without the crease colour, I was amazed at the effect. I've also taken away the trick of applying concealer in a V on the outer corner to sharpen up the outer edge of my eye. I was really pleased with how it lifted up my eyes which are a little hooded. I have my eye on an ELF pen liner after Jasmine used this to apply liner just at the lash line.
I was instantly taken with The Body Shop lipstick Jasmine picked for this look. It's a beautiful dark peachy nude. It's not a colour I would have typically chosen but I love how it looked. So much so that I went out and bought it today, I have it on as I type. For reference it's number 42. I really like the blusher too, from memory it was a mixture of a cream blush from a palette and a smidge of E.L.F. Natural Radiance blusher in Bronze.
Along with the defined brows this is a great "My Face but Better" look for me. It's been great for the school run too.
In complete contrast to the day look, Jasmine created a stunning smoky eye as an evening look. I really loved this. I can't give exact shade details as it was an amazing blend of three shadows from two different palettes. The basis of it was MAC Teddy eye kohl (one of my favourite liners) and this was applied to my lower lash line and crease and smudged out. I was really pleased with this as it's always great to find new ways with old favourites!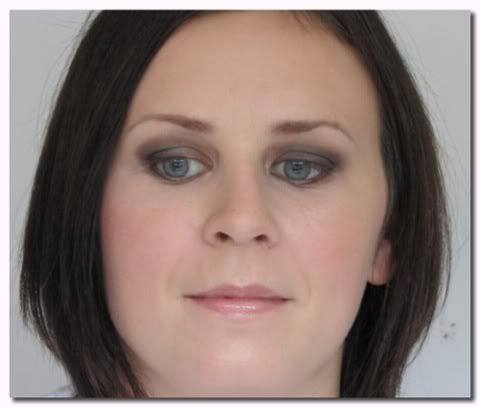 For a bit of fun, I added some false lashes later on. It is entirely normal to be be wearing false lashes at 5pm on a Sunday isn't it? My photos aren't great and please excuse the visible blob of glue but I thought it would be fun to share the pictures with you.
I had such a great time with Jasmine. I learned so much, I have a list as long as my arm of E.L.F. products and brushes I want to get after my rummaging and as well as all that, I enjoyed fabulous conversation and scrummy homemade cake! So, huge thanks to the talented and very stunning
Oxford Jasmine
for such a lovely afternoon. Believe me, her studio is make up nirvana!
You can read Oxford Jasmine's post about our get together
here
.