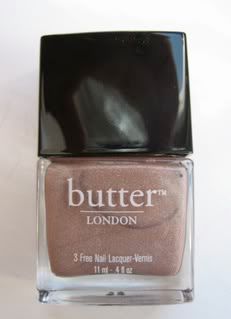 All Hail McQueen is part of the Butter London Autumn 2010 collection. The other colours are lovely but this gorgeous taupe beige with holographic glitter really caught my eye. I haven't tried any of the Butter London polishes before but was keen to try as I thought they might kinder to my nails as they're all 3 free (free of toluene, formaldehyde and Dibutyl Phthlate - DBP).
The holographic glitter is beautiful, I can see flecks of peachy gold, silver and purple. If you catch it in the right light you can really appreciate the pretty sparkle.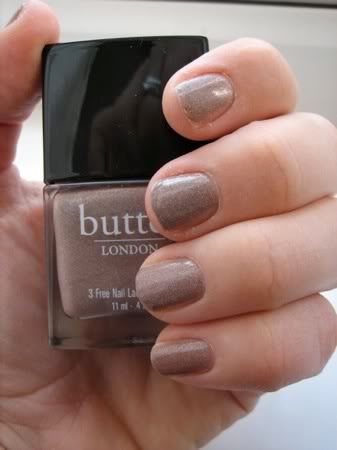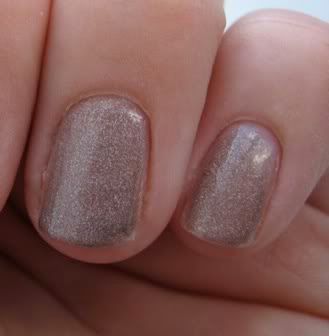 I've had this on my nails for a couple of days now. I know people have reported issues with chipping with the Butter London polishes. It's hard for me to comment on this, as I've mentioned before I have trouble with all polish chipping on me. I did experience some tip wear but I hadn't used any top coat.
This brings me on to another point. It is recommended that for best results you use these polishes in conjunction with BL top coat and base coat. Rather than being some kind of marketing ploy this has sound scientific reasoning. Using 3 free polishes with products that contain formaldehyde, toluene or DBP can cause incompatibility issues resulting in slipping or the polishes not drying properly. Top coats such as Seche Vite, which contains toluene, have been reported not to work well with big 3 free polishes. This may be worth considering if you have experienced problems with the wear of these polishes before.
Butter London polishes are available from
Zuneta
and
The Powder Rooms
.