This is another in my series of shop my stash looks. I started out by picking MAC Style Snob eyeshadow. This has been neglected a lot since I bought Rouge Bunny Rouge Solstice Halcyon. The colours are similar, as you can see from
this post,
but it does have quite a different finish. Style Snob is a Starflash finish eyeshadow and was released as part of the Love That Look collection. I believe this particular shade was extremely sought after and I was very lucky to pick it up in a forum sale.
Wearing it reminded me how pretty it is. It's quite sparkly and has small particles of peachy-gold glitter. I'm pleased I remembered not to apply my concealer until afterwards as I did experience some fallout. I applied Style Snob 3/4 of the way across the mobile lid, then applied MAC Relaxing (a similar toned but slightly lighter colour) to the inner 1/4. I used MAC Smut to define the crease a little and buffed out any hard edges with MAC Brule.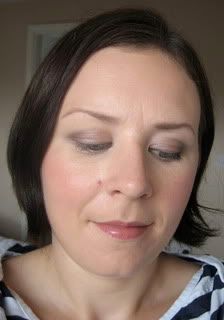 Face
Lancome Teint Miracle foundation in 02 (more to come on this foundation)
RMK Super Basic liquid concealer on undereye circles
Shu Uemura brow pencil H9 Seal Brown
Illamasqua Beg blusher
Eyes
Too Faced Shadow Insurance
MAC Relaxing e/s, on inner 1/4
MAC Style Snob e/s, on outer 3/4
MAC Smut e/s, in crease
MAC Brule e/s, to buff out edges
Guerlain Loose Kohl in Oriental Metal
L'Oreal Voluminous mascara

Lips
Guerlain Kiss Kiss lipstick in Beige Nude
I apologise for the sloppy lipstick application but this has been become a new favourite and I wanted to show it off. This lipstick is a lovely colour and it's so creamy, I'm hoping this is true for all the Kiss Kiss lipsticks? I really feel the texture is similar if not better than the YSL Rouge Volupte. I think I may need to try some more!