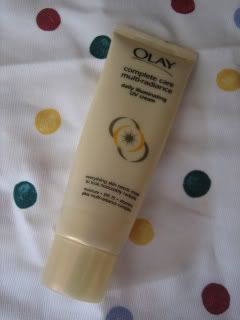 Why is it things always seem to run out at the same time? Just like the
Nuxe cream
, I thought I would give you my thoughts on this before it runs out.
I received the very lengthily titled Complete Care Multi-Radiance cream as part of a Mother's Day set. It's not something I would have picked up normally and I honestly don't think I'd ever noticed this in Boots or Superdrug. I have to admit it would have been a shame to miss this one.
The blurb:
Everything skin needs most to look noticeably radiant
.
A daily facial moisturiser that has been specially designed to give your skin everything it needs most to be noticeably radiant.
Easily absorbed
Provides an excellent base for makeup
I would completely agree on all of these points (not a hint of sarcasm I promise). I use this in the morning and it makes a great base for foundation. On warmer days I've dispensed with base entirely and just used concealer. The light-reflecting particles in this give a subtle pearlised sheen to the face, it's also visible through a light base. It gives you a glow without looking greasy. The moisturiser is a nice light consistency. I don't like anything too heavy in the day as my face isn't particularly dry. I like that it absorbs well too.
My only gripe is the relatively low SPF. For something that's marketed as a UV cream I would have expected more than SPF 15.
I am actually considering re-purchasing this, it's currently on offer for £4.99 at Superdrug. Although there's always the temptation to try something new, I really have been impressed.