I mentioned in my make bag video post that I would do review of this pencil and here it is. I was prompted to review this after reading
Lipstick Rules
post about writing negative or neutral reviews. In my opinion, this one is definitely in the "meh, I don't get it" category.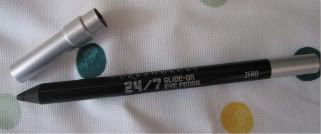 I bought this after reading lots of raves about what a brilliant product this is. The comments ranged from; the blackest, black; the longest lasting; the easiest to apply. I agree with the fact that this is an easy pencil to apply. It's very soft and creamy, it deposits colour without you having to apply pressure and there's no tugging. I find that the tip doesn't stay sharp for long (no doubt because of the creamy consistency) so I struggle to get a clean line. I get a lot of migration with this and I often end up with lots of black around my tear duct and into my undereye. This is a terrible look for someone with dark circles anyway! This happens with lots of liners for me but this is particularly bad for it and it happens very soon after application.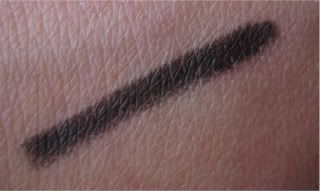 I'm sure lots of the raves for this are from people using it to tight line and waterline which I rarely do. I can appreciate that a soft consistency is pleasant if you're applying to these sensitive areas but it if I get migration with this applied above the lash line I dread to think the state I'd be in if I used it to tightline. I've no doubt I'd look like Sue from The Sooty Show very quickly (in case you're too young to remember here's a little photo of Sue for you!).
For me this is definitely just an OK pencil. I keep it in my bag for when I don't have time to use a gel liner. It'll probably take me forever to use it up but when it happens I won't be re-purchasing.