I have been struggling to work out what my favourites have been this month, it's almost like the month has been split in half in terms of my make up use. For the first half of the month, as it was still very warm, most of my looks involved the same favourites I'd posted about in June. As the weather cooled slightly and once I got my hands on some of the Edward Bess collection, some new things found there way into my routine.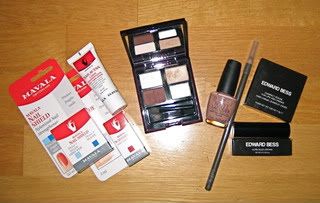 My Suqqu quad has been really useful these last couple of weeks. I've used this when I needed to put make up on on the run. The colours are great for producing quick but dramatic looks and the small brush inside is actually very good. This particularly handy as carrying round loads of brushes in your handbag is not practical!
As I mentioned above my Edward Bess lipsticks and creme blush have become fast favourites. They're such flattering colours and the formulas are great. I love lipsticks that don't dry your lips out and these have a very luxurious balm feel to them.
I can't remember if I've mentioned this in a favourites before, but I have been loving my Shu Uemura H9 brow pencil. This pencil is so easy to use for a brow pencil novice like me, you can build the colour up gradually and the lack of red tone make it a perfect shade. I've enjoyed giving my brows a more dramatic look and playing with the shape. It was an absolute essential after my hair dye blunder too.
My final mention has to be for the Mavala products I bought to get my nails in shape. I shall post an update soon but I've been really pleased with the results to far. My nails feel so much stronger and wearing nail varnish hasn't instantly caused them to peel. Result! Which reminds me OPI Dulce de Leche has to have a mention as I have worn this lots this month. It's such a pretty nude nail colour.
So, have you had any particular favourites this month? Have you got over the Summer make up lull yet?