The lovely
Lily from Paris
made a suggestion for a look to go with my new hair. I thought I'd oblige and dutifully paired red lips with liner, I went for Illamasqua Intense gloss in Fume though rather than my more full on Box lipstick. I really liked how it turned out and even my husband commented on how nice it was (a rare but lovely treat). Unfortunately in pictures the colours looked washed out.
So, I had a second go at it, amping up the colours a bit. I liked how everything turned out apart from the how blush looked. I'd picked out MAC Petticoat MSF in a final attempt to see if I could feel comfortable wearing it. It just isn't for me, don't be sad though as it's already found a new and loving home!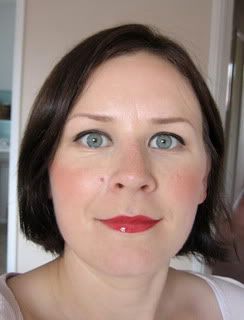 Face
Korres Watermelon Tinted Moisturiser - 01 Sand
RMK Super Basic Liquid Concealer undereye
Shu Uemura H9 Brow Pencil in Seal Brown
MAC Petticoat MSF
Light dusting of MAC Blot Powder in Medium
Eyes
MAC Painterly paint pot
MAC Brule all over eye up to brow
MAC Omega in the crease
Bobbi Brown Caviar Ink gel liner
L'Oreal Voluminous mascara
Lips
Illamasqua Fume Intense lipgloss
I think it's quite a simple look but I really liked it. The first time round I was wearing a stripey Breton top. Husband said I looked very French, so it seems you really did inspire me Lily!